Today is Global Tiger Day: Celebrate By Taking Action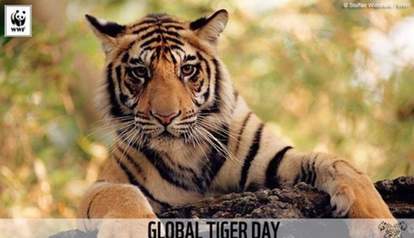 Global Tiger Day also known as International Tiger Day, is a celebration held annually on July 29. It was created in 2010 at the at the Saint Petersburg Tiger Summit. The goal of the day is to promote a global system for protecting the natural habitats of tigers and to raise public awareness and support for tiger conservation issues.
At present the number of wild tigers is at its lowest. In last 100 years, around 97 percent of the total tigers population have been lost. In 1913, the world had about 1 hundred thousand wild tigers, which has dropped to 3000 in 2014.
It is estimated that if the rate of extinction continues at this rate then all living tigers in the wild could become extinct in 5 years.
Extinction is forever, so lets not allow it to happen to such majestic incredible animals. Please get involved, only a global effort will save wild tigers!
There are so many ways you can get involved ~ Here are a few ideas:
Sign and share these petitions:
Sign the White House Petition
Join TigerTime and use this tool to contact your MP Sign this PetitionTime petition.
Sign the AVAAZ petition.
For more information about the threats wild tigers face and even more ways to get involved and to donate to tiger conservation projects, check out these sites:
If you're on social media sites, just type in "Global Tiger Day" and you'll find even more ways to get involved.