Today is Earth Overshoot Day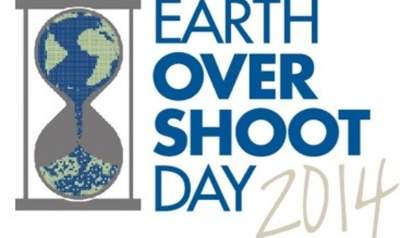 August 19 is Earth Overshoot Day 2014, marking the date when humanity has exhausted nature's budget for the year. For the rest of the year, we will maintain our ecological deficit by drawing down local resource stocks and accumulating carbon dioxide in the atmosphere. We will be operating in overshoot. (footprintnetwork.org)

August 19 is Earth Overshoot Day 2014, marking the date when humanity has exhausted nature's budget for the year. For the rest of the year, we will maintain our ecological deficit by drawing down local resource stocks and accumulating carbon dioxide in the atmosphere. We will be operating in overshoot. (footprintnetwork.org)

Earth Overshoot Day is the annual marker of when we begin living beyond our means in a given year. While only a rough estimate of time and resource trends, Earth Overshoot Day is as close as science can be to measuring the gap between our demand for ecological resources and services, and how much the planet can provide.
What is Ecological Overshoot? (Updated 2014)
Throughout most of history, humanity has used nature's resources to build cities and roads, to provide food and create products, and to absorb our carbon dioxide at a rate that was well within Earth's budget. But since the 1970's we have been using more than what our planet can reproduce and the effects can be seen clearly, in terms of climate change.


This year it has taken us less than 8 Months, to exhausts Earth's budget for the year. Continuing to use the natural resources of our planet so irresponsibly will have devastating consequences!
For more information and to find out how the country you live in rates compared to other countries, go to: Footprint Network
To calculate your own ecological footprint and learn what you can do to reduce it with Footprint Calculator
Follow the conversation on Earth Overshoot on social media: #oShoot