Tiny Squirrel Found On Doorstep Loves His New Warm Bed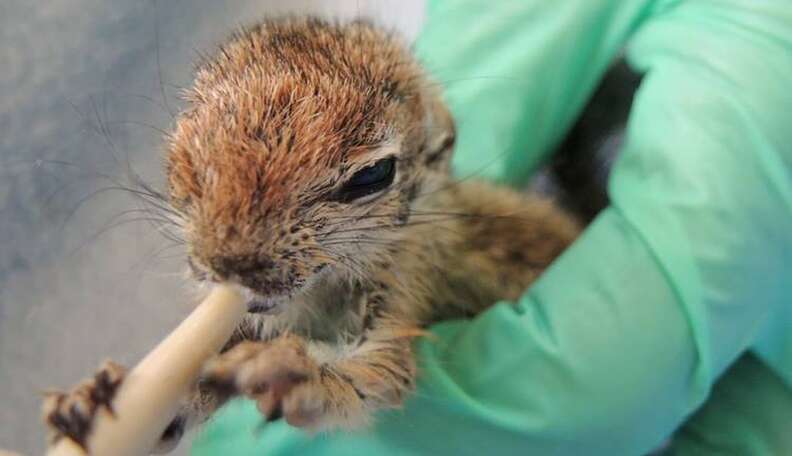 <p>Southwest Wildlife Conservation Center</p>
A woman found a little lump of fur on her doorstep that turned out to be a tiny, limp baby squirrel.
He was half the size of a thumb.
She kept the squirrel in a little box, feeding him twice a day. But because the woman worked outside the home, the squirrel was not receiving the care he needed. By the time she called Southwest Wildlife Conservation Center (SWCC) in Scottsdale, Arizona, in March, it was almost too late.
"He was almost dead when we got him," Kim Carr, animal care supervisor at SWCC, told The Dodo.
The baby, a Harris's antelope squirrel, was very skinny when he first arrived at SWCC. "He hadn't been eating and he was lifeless and limp," Carr said. "I wasn't sure how to get fluids in him, and had to use a 1-milliliter syringe, the smallest there is."
Carr originally had to bring the little one home with her. At first, there was not much hope for him, so she and her husband named the squirrel Bob Hope.
Though Carr has years of experience raising orphaned mammals, Bob was a departure from the animals she and SWCC normally rehabilitated, but Carr saw Bob through the initial rough stages when everything was touch and go, feeding him every couple of hours for two weeks.
"Now, he is a little bigger than a thumb," Carr said.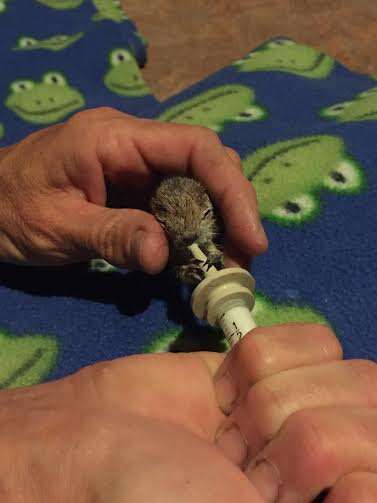 Today, Bob is no longer living with Carr, but he continues to thrive, eating a diet that consists of rodent chow, Cheerios, and fruits and vegetables.
Depending on his health, Bob will either be released back into the wild, or stay at SWCC as an ambassador for education, according to Carr. "But we have to see if there are any lingering effects from the squirrel pox," she said.
No longer the limp little squirrel he was when he first arrived at SWCC, Bob has since perked up and bounces back every day. "Now, he runs around like a roadrunner," she said.
"Every animal deserves a second chance," Carr said. "We were smitten with this squirrel. He seems to be the most popular animal around here, because he was something we don't normally see. It was the squirrel fan club."
If you find a wild animal, it's always best to contact a licensed rehabber before interfering. Go to the National Wildlife Rehabilitators Association website for a list of rehabbers by region or contact your local fish and game office.
To help Southwest Wildlife Conservation Center, consider donating here.
Find out why everyone loves Bob and watch the little guy here: