When someone spotted a box left at the end of a street, they didn't think anything of it - until they realized there were three puppies inside.
The tiny puppies were only 9 days old, and hadn't even opened their eyes or learned to walk yet. The poor babies had clearly been left there to die.
Lee County Domestic Animal Services in Florida responded to the call about the puppies late Saturday night, and one of the animal control officers took them home and kept them alive until they could be placed with a rescue on Monday. Big Hearts for Big Dogs Rescue (BHBD) stepped up to take the puppies, and immediately placed them into a foster home.
Due to how young the puppies were when they first arrived, and how much attention they needed, they were rotated between a few different foster families to share the time-consuming task of caring for them. The puppies were in a very fragile state, and their rescuers were worried they might not make it.
"We struggled through 10 types of bottles before we could find one they liked," Trinity Hansen, West Coast director of BHBD, told The Dodo. "They were still so young we had to stimulate them to go potty and they needed to be fed every two hours."
The first week with the puppies was a struggle - but soon, they began to thrive.
Now, all three of the puppies have opened their eyes, and they've even started crawling around a little bit. They were named Deuce, Ace and Diamond after the game of poker, because one of the foster families caring for them recently lost their dog named Deuce.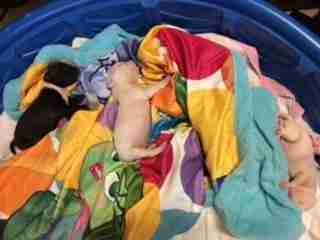 "They are thriving and gaining weight and going through tons of formula," Hansen said. "They are already developing little personalities and are going to be amazing pups."