Even after a horrific attack, these three little kittens just want to snuggle. The kittens and their mom were left behind after their family moved, and neighbors in their Florida town had been feeding them and keeping an eye on them.
But last week when one of the neighbors went to feed them breakfast, she saw something horrific - they had been attacked with some kind of chemical.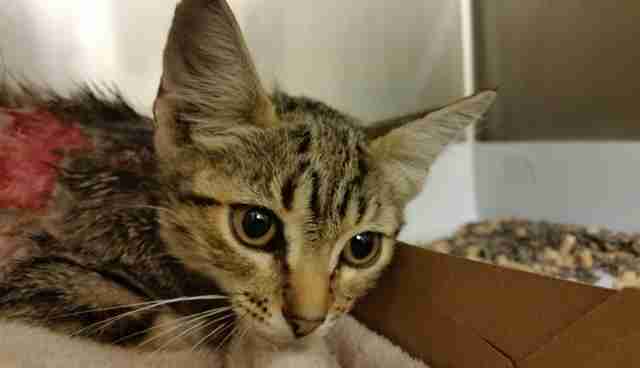 "You could literally see on one of them where it was like the fur and the skin was hanging off on the side," Ashley Cleveland, who discovered the kittens after their injuries, told BayNews9. Thankfully, their mom hadn't been burned.
The 3-month-old kittens were rushed to the SPCA of Brevard County for care. "They looked terrible," Angie Friers, the SPCA's executive director, told The Dodo.
Because the kittens had burns down their backs but not on their paws, the veterinarian concluded that there was no way they got into something on their own - they were deliberately attacked.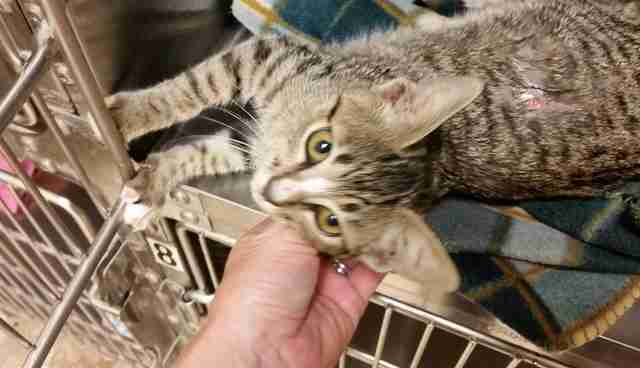 The kittens, two boys and a girl, were named Remo, Harding and Matilda. Harding is doing the best out of the three. "He is spunky, crazy man, loves to be held," Friers told The Dodo. "The other two, not so good."
Matilda is missing most of her fur - she and Remo basically have "third degree burns over a third of their bodies."
They have to stay wrapped up in gauze bandages (with little sweaters to keep them in place) but the shelter staff can tell that despite medication, the little kittens are in near constant pain.
Even though they're suffering horribly, they still have sweet kitten personalities. "They purr, they love to be held," Friers said. "You take off their bandages and you're like oh my God ... it's just the craziest thing I've ever seen."
Unfortunately the kittens have to be kept separately so they don't injure each other by trying to play - which means they're missing out on all the fun they should be having in their kittenhoods.
Harding will be ready for adoption in weeks, but Remo and Matilda will need months of care. The police have opened an investigation into their abuse.
As for their mom, the SPCA said people are working to bring her into the shelter so that she can go out on the adoption floor. Hopefully she'll get a chance to be reunited with her babies so she knows they're safe and in good hands.