If it weren't for a couple who noticed a garbage bag moving on the side of the road as they were driving by, this tiny puppy wouldn't have had a chance. But the lucky pup, whom rescuers have named Angel, is safe in a shelter tonight, and she's on the road to recovery after being callously abandoned.
6-week-old Angel was found in a plastic trash bag by the side of a rural road in Hawkins County, Tennessee on Tuesday, the Kingsport Times-News reports. There was also a dog toy in the bag with her.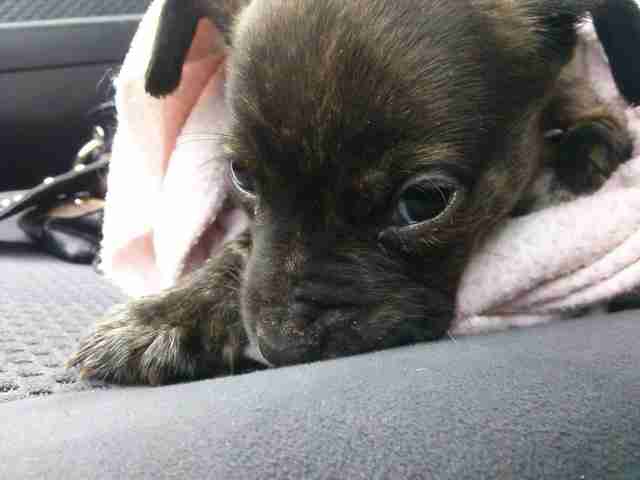 A couple driving by spotted the bag moving slightly, and pulled over to investigate. When they discovered the tiny puppy inside they rushed her to the Hawkins County Humane Society.
A visit to the vet revealed that little Angel was "malnourished and weak," the shelter posted in a Facebook update on Wednesday, and likely wouldn't have survived long in the bag. At first she wasn't using her two front legs, but now she's walking on all fours. She's gaining her strength and will soon be up for adoption.
The shelter staff who are caring for Angel hope whoever abandoned her will face consequences, and are still shaken by how cruel her case was. "This is neglect all the way - abuse," humane society manager Sandy Behnke told the Kingsport-Times News, "There's no excuse. This is a beautiful dog."