A tiny chihuahua puppy who was rescued after being abandoned earlier this week has found comfort and security in a very large and very loving new friend.
The 1-pound pup, named Digby, was discovered shivering and scared between two dumpsters in north London on Tuesday, left to fend for himself at just 5 weeks old. Fortunately, he was soon taken in by staff at the Southridge RSPCA Animal Center, where he met the shelter's resident pet - a 130-pound Neapolitan mastiff named Nero.(RSPCA)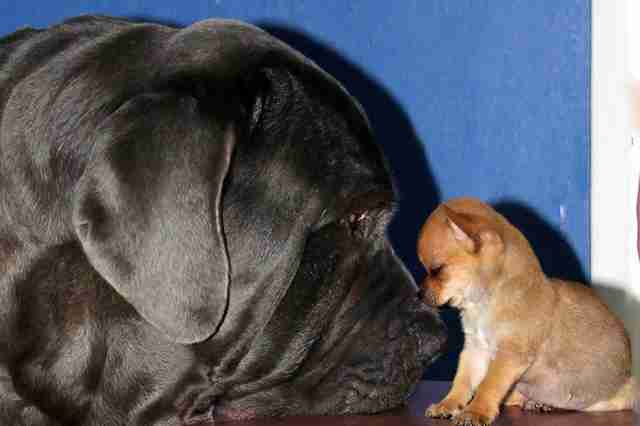 Despite the dramatic difference in their size and breed, the larger dog has taken the petite new arrival under his giant paw.
"Nero just adores Digby," a shelter staffer told The Dodo by phone. "He will just sit and clean him, licking him all over. Nero is very gentle. He's a very, very good boy."
(RSPCA)
Just in the past few days with Nero by his side, the once frightened Digby has blossomed into a happy pup, says RSPCA officer Natalie Ditchfield:
"He seemed to come out of his shell as soon as we arrived at Southridge and spotted Nero. It really is a love story!"
Thanks to all the attention surrounding this unlikely friendship, little Digby has found even more friends. The RSPCA tells The Dodo that he has since been adopted by a new family and will move into his forever home in the coming days.