Tiny, Crying Kittens Are Fished Out Of Storm Drain And Given New Homes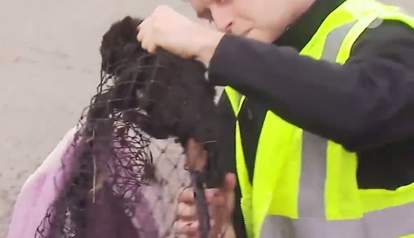 When a storm drain in South Bend, Indiana began meowing at three in the morning, neighborhood residents sprang into action. Several calls were made, and before long South Bend Animal Care and Control, Code Enforcement and Bureau of Sewers and Waste Water were all on the scene.
The first little kitten was relatively easy to grab, thankfully. The little fuzzy black kitten was dubbed "Stormy."
Once Stormy was pulled to safety, however, the workers realized that the second kitten would be even trickier to remove, as he was in a separate sewer.
After about an hour of work, the second kitten was freed from the drain and given the name "Jared," after his rescuer, Jared Reed. "I've been down in sewers and manholes quite a bit, but never had to save a cat," says Reed, a Waste Water Department employee. "When I heard everybody cheering up top once I said I got (the kitten), that made it all worth it."
Stormy and Jared are currently being cared for at South Bend Animal Care and Control, and will hopefully be up for adoption very soon.
Matt Harmon, director of South Bend Animal Care and Control, says that "Every animal counts ... These little kittens aren't very social kittens right now, but I'm sure when we give them a little TLC, they'll perk up."
While this is hardly the first time that a little critter has found themselves in peril due to falling in a storm drain, an NY Daily News piece asserts that storm drains can actually help to prevent wildlife from becoming roadkill due to speeding cars.
You can watch the full heartwarming rescue below: