Tiny Calf's Broken Legs End Up Saving Her Life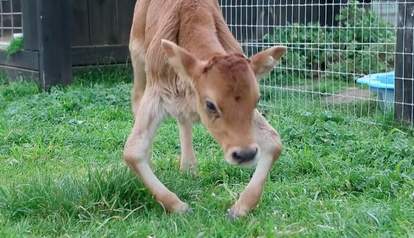 <p> Vimeo/Edgar's Mission Farm Sanctuary<br> </p>
When Pixie the calf was born, she looked perfect. Then she tried to stand up and it became clear that something was very, very wrong.

Pixie was born with a crippling deformity on her front legs, which are permanently bent at the knee. The newborn calf couldn't even place her hooves flat on the ground, and was just barely able to totter around on her tiptoes.
Her condition could have spelled disaster in an already ill-fated life: Born at a dairy farm, she faced a life of constant breeding and eventually being killed for meat. Instead, her broken legs saved her. A dairy worker was touched by the little calf - who was fighting to survive - and knew she deserved a chance.
The worker reached out to Australian farm sanctuary Edgar's Mission, and Pixie arrived at her new home last week. But it was clear that her six weeks on the farm had already taken their toll.
"Her legs are a disaster," Pam Ahern, founder of Edgar's Mission, said in a video of Pixie's arrival. "They're a lot worse than what I thought they were."
The little calf was also hungry, and digestive troubles had scalded the hair right off the back of her legs and tail. But she was sweet as could be, eagerly accepting pets and affection from Ahern and the other staff members.
"If I know one thing about this little girl, [it] is that she wants to live," Ahern said.
Pixie's new family set to work, cleaning up the little calf and feeding her with a bottle. Ahern examined Pixie's legs, which initially appeared to be fused at the knee, and gently tried to stretch them while the trusting calf stayed silent.
"It is just so contracted and so tight," Ahern said about the tendon in the little calf's leg.
Pixie quickly perked up under their loving care. A video posted just two days later shows the little calf looking "brighter in the eye" as she tries to stumble around on her unusual legs.
"She's having a lot of trouble walking about but she is improved from her first day," Ahern says. "I think she also is feeling a lot better. We were actually able to get the milk into her. I don't know how she was managing to feed at the dairy amongst all the other calves she was doing battle with."
And Pixie soon had more to look forward to. A vet visit confirmed Ahern's suspicions that Pixie's tendons were too tight, and revealed that her shoulders were affected as well - but a positive diagnosis also meant that Pixie's journey to health could begin.
As most bobby calves don't live very long, there's no standard protocol for handling issues like Pixie's. But the sanctuary said in a Facebook post that it will use a combination of "injections, splints, toe extensions, physiotherapy and love" to loosen Pixie's legs and help her live a happy life.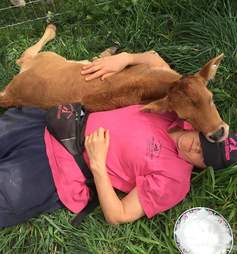 Edgar's Mission
While healing her legs will be more difficult since she wasn't treated at birth, Edgar's Mission isn't daunted by the task. After all, it's hard to be upset about Pixie's diagnosis when, in a miraculous twist of fate, it's the only thing that saved her life.
"We'll work out the best possible outcome to give Pixie a life truly worth living," Ahern said. "That is what I want above all else."
If you'd like to help care for Pixie and the other animals at Edgar's Mission, you can make a donation through the sanctuary's website.
Watch Pixie's full story below.