Tiny Bear Cub With Broken Leg Rescued By Determined Driver
<p>Photo: Southwest Wildlife Conservation Center</p>
When Christopher Morris, of Payson, Arizona, spotted an animal lying on the side of the road, he assumed it had to be a dog. However, as Morris approached the creature to move it off the side of the road, he realized that he was looking at a little bear cub - and what's more, the cub was still alive.
Morris sprang into action and attempted to find a rescue center for the cub nearby. Unfortunately, all of the shelters were full. That's when Morris decided to go the extra mile - literally - and drove the cub to the Southwest Wildlife Conservation Center in Scottsdale, almost two hours away.
The center describes on their Facebook page that the 4-month-old cub was injured with a fractured leg, but that the little bear was perfectly healthy otherwise.
After she was feeling a bit better, the cub happily lapped up some milk - and may have gotten more on her face than in her mouth!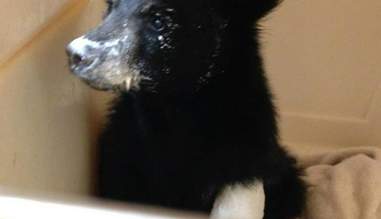 According to the center, it remains unknown as to whether or not the cub will be released back into the wild, as it is unclear yet whether or not she suffered any head trauma.
You can watch some footage of the little bear, who is doing considerably better, here.