"Dr. Sandhu is saving her life tonight. Call me ASAP," the message read.
I called my friend Amanda immediately, and she said that Giraffey, the calf she had saved from going to slaughter and who was near death, had an angel on her side. Veterinarian Balpal Sandhu, DVM, was willing to see her free of charge. Amanda and her boyfriend, Cody, rushed the sickly calf to Dr. Sandhu's hospital, AV Veterinary Center, in Lancaster, California, where she would remain overnight.
Giraffey was led by a veterinary technician into the clinic and greeted by Dr. Sandhu (in red).Amanda Sorvino
The next morning, Amanda called me as she and Cody were driving to Dr. Sandhu's clinic to pick up the calf. She was nervous, terrified almost, as if waiting to find out if her own child would survive a horrific accident.
"Do you think she'll be OK?" she asked me. "I'm so nervous that Giraffey didn't make it through the night," she said. I assured her that Dr. Sandhu would have called if something was wrong. The phone started crackling and I lost her.
Then a text.
"Rhona we're driving through the windmills. Bad reception. I'll call you back in 20!"
I was literally on the edge of my seat.
Dedicated to saving animals and especially horses and cows, Amanda Sorvino is a screenwriter, documentarian and animal advocate with a focus on cow advocacy. She is the daughter of actor Paul Sorvino and sister of Academy Award-winning actress Mira Sorvino. Currently she is working on a documentary on Southern California's factory farm dairy industry.
Giraffey the day she was saved at the seller's yard with her tag glued to her forehead.Amanda Sorvino
Born on January 6, Giraffey was picked up by Amanda on January 9 from a drop calf dealer who advertised on Craigslist.
Drop calves are the throwaway calves who are basically deemed worthless after birth. Taken from their mothers directly after they are born, the drop calves are an unnecessary cost and byproduct of the dairy industry. Since they are competition for their mother's milk they are sold for slaughter.
The dealer was selling days-old drop calves for $150 each. Amanda bargained and bought Giraffey and another calf she named Cloud Calf for $250, paid for by a donation from her friend Norma out of Nevada, with hopes of finding them homes.
Amanda purchased Giraffey and Cloud while searching for No. 10, a drop calf she had seen at a backyard feed yard in August 2015 while doing research for her documentary on the industry. She and Cody at the time bought three baby calves, Magic Show, Moobles and Crocodile Sunday. Although there were five in total that Amanda wanted to take, Cody felt it was impractical to leave that day with five calves in the small trailer. Amanda made a deal with the seller to pick up No. 10 and a fifth drop calf the following weekend.
As she left, No. 10 cried out for her. "He screamed so loudly I could still hear him screaming from the driveway," Amanda said. "It was horrible and will never leave me."
Soon after she arrived at Amanda and Cody's home, Giraffey had taken a turn for the worse.Amanda Sorvino
Her friend Susan Pizzini donated some money so that Amanda could go back to save No. 10, but she found that the seller had already taken him and other drop calves to auction, which set Amanda off on a personal quest to find him, scouring Craigslist ads where many sellers advertise. This led her to Giraffey and Cloud, who were hidden in a tool shed in the backyard of a private seller's home. Although No. 10 was nowhere to be found and most likely long gone to a feedlot in Texas, she made the deal for Giraffey, and Cloud, who was sickly.
Cloud was terribly ill on the drive home. "By the time we got home she drifted into sleep, like a comatose sleep," Amanda said. "I laid down next to her and fell asleep. A minute later she was not breathing." There was nothing that could be done.
The vet techs at Dr. Sandhu's clinic fell in love with Giraffey and made sure she had the best of care.Amanda Sorvino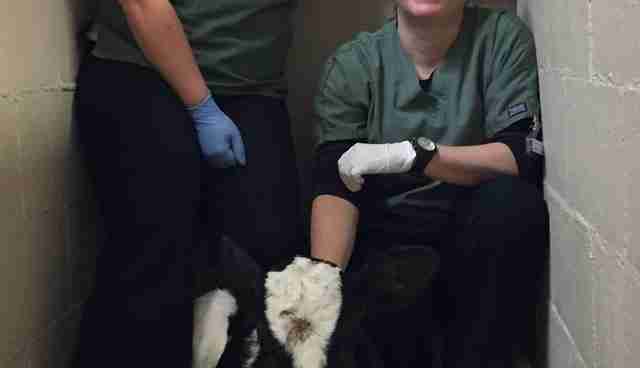 Giraffey was healthy and had a great first night in the barn. By the second day "she showed signs of a typical drop calf and started shivering, so we brought her into the house," Amanda said, acting on the advice of a dairy farmer. "She started to get really weak and didn't want to suckle the bottle." Giraffey continued to get weaker and lost interest in drinking. "She was falling on the floor, had projectile diarrhea. It was terrible for her. I realized she was going to die if I didn't get her treatment."
That's when Amanda called Dr. Sandhu, who had been a hero to her once before. Back in 2010, when Amanda first moved with her daughter to California, Dr. Sandhu saved their white German shepherd Unis during a 6-hour surgery after he had been shot six times by a mentally disturbed neighbor who was stalking the family. Dr. Sandhu's veterinary hospital was the closest clinic at the time.
One call to Dr. Sandhu about Giraffey and it was game on. "Bring her here," the vet said.
Giraffey has established an unequivocal bond with Amanda.Amanda Sorvino
"The calf was not given colostrum when she was born as she was not allowed to nurse," Dr. Sandhu told The Dodo. "She did not have the antibodies necessary so her immune system was compromised." Dr. Sandhu admitted Giraffey and he and his team did extensive rehydration for the calf and started medications for calf scours (very loose diarrhea) in order to stabilize her.
Everyone at the clinic fell in love with Giraffey, who made marked improvement, according to Dr. Sandhu. He does a lot of charity work for animal rescues. "It is my contribution to help them and save them. I helped Amanda with her rescue animals in the past at no cost to her," he said.
Dr. Sandhu released Giraffey the next day as she was nursing and drinking well in addition to moving around. "Amanda is very caring and really on top of things, so I am pretty optimistic that the calf will be OK," he said of Giraffey who stole the hearts of his staff. "Everybody wants to take her home. She is very friendly and people are her pack."
On the drive home with Amanda and Cody, Giraffey tried to jump into the front seat to look out the window. Amanda was happy to bring her home knowing she would thrive surrounded by family and her friend Barley, one of the family dogs.
Only 2 weeks old and Giraffey enjoys birthday parties and gifts.Amanda Sorvino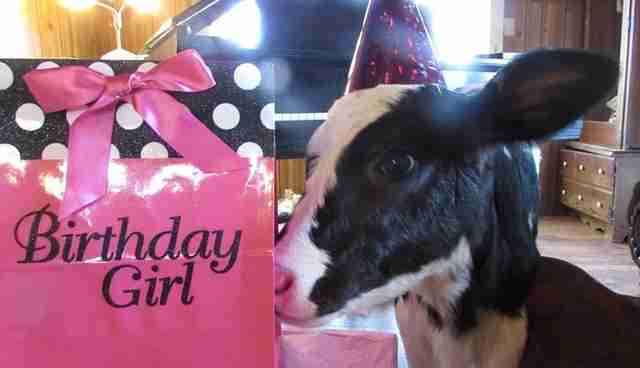 "We believe at this point that she could live as a house pet as she is pretty much house trained," Amanda said. "She knows to go to the door when she has to go out. She thinks she is a family member."
Giraffey is extremely affectionate, acknowledges all her family members and acts like one of the family dogs, according to Amanda. "She visits Barley when he's on the couch and gives him kisses. She loves to go into the kitchen and drink out of the dog water bowl."
The calf also has a sense of humor as she approaches the big screen television, especially to watch "The Golden Girls." Classical music is her favorite and she perks up when listening to "The Nutcracker Suite." She lifts up her head when the Christmas tree lights are turned on. "It makes her happy," Amanda said.
The little calf who was so sick just days ago, now moos contentedly. "She came to my door to wake me up to go get her bottle," Amanda said of the calf who gets up every two hours and who has formed a strong bond with her. "I'm pretty much not getting any sleep. It's like having an infant."
Giraffey has Cody in her corner as well.
"I wasn't happy when I found a baby calf in my living room, but after a while, she won me over," Cody said.
Eventually Giraffey will go outside, "but it will be hard. We'll probably put her with Moobles so he can be her guardian and show her the ropes."
Giraffey is on the mend and doing much better. She is very affectionate and loves to snuggle at home with Amanda.Amanda Sorvino
For now, the little calf that could is improving, with thanks to Dr. Sandhu, Amanda and Cody. Having been around countless animals, Amanda says that cows develop extremely strong lifelong bonds to people and animals.
"Last night we let Giraffey outside and I had to run inside and get my coat," Amanda said. "I asked Cody to go out with her, but he had to get his shoes. I went outside and she had been alone for about 30 seconds and vanished. We ran all along the driveway that surrounds the house and pastures and couldn't find her anywhere. We finally found her in the garden outside the living room window staring purposefully at the Christmas tree.
Taking a gallop.
Amanda Sorvino
Amanda Sorvino
"This entire experience showed me that home is where the heart is - even for a baby calf."
To learn more about Amanda's advocacy efforts and her upcoming documentary "Finding No. 10," go to Giraffey Baby on Facebook and find out how you can help.