Zoo Releases Footage Of What Led To End Of Goat And Tiger's Friendship
Two months ago, a zoo offered a living goat to one of its tigers for food, but, for some reason, the tiger never took a bite.
From there, the goat Timur and tiger Amur became an international sensation - and unlikely buddies. Or so we thought.
On Tuesday, the zoo announced that they were separating the duo. Now, the zoo is admitting that there was more to the story.
As it turns out, the so-called friends had a rather violent falling out.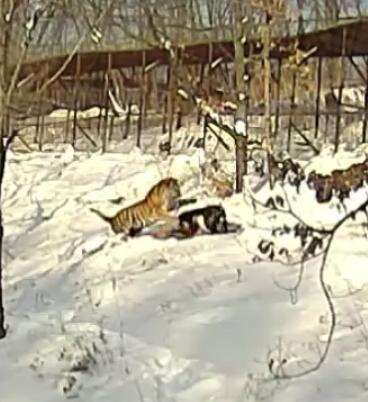 Initially, the zoo's owner, Dmitry Mezentsev, said that they separated the animals for two reasons: to monitor Timur's health after severe weight gain (45 pounds) and to "keep him safe from possible changes in the male tiger's behavior" during mating season.
The behavioral changes weren't just a possibility. They were very real, and left Timur with infected wounds.
"Timur pushed Amur down the slope, poked him with his horns and legs, and finally stepped on Amur while he was sleeping," Mesentsev told the Siberian Times. "Amur woke up, grabbed Timur with his teeth, shook him like a kitten, and threw him away. Then he lay down to rest again."
On Friday, the Siberian Times released footage from the zoo's 24-hour live stream. It shows a tense, albeit natural, moment between Timur and Amur.
The zoo decided to separate Timur for his own safety. But why the change of heart? After all, they threw him into Amur's den in the first place.
As The Dodo has previously reported, Timur and Amur have become internationally recognized commodities for the zoo, which has gone so far as to trademark the animals. Between the increased attendance and the numerous movie deals, Timur has more monetary worth than he did when he was a nameless goat being used as live food.
Now, Timur is being treated for his wounds. "We made anti-shock therapy to relieve stress and gave him antibiotics - strong medicines because it is likely the wounds are infected. We suppressed the development of infection, from which most of the animals die in such cases," said Mezentsev.
In light of the recent news, it's unclear what will come of Timur and Amur's relationship and whether the zoo will decide to reunite these natural enemies.
Out of all the uncertainty, there's probably no one in greater confusion than poor Timur, the goat who has gone from food to friend to internationally recognized commodity. In a matter of mere weeks, he's undergone more dramatic changes than most goats do in an entire lifetime.