Any time of day, the atmosphere in New York City's Times Square is electric - never more so for me than this morning as I represented the International Fund for Animal Welfare (IFAW) at the US Fish and Wildlife Service (USFWS) destruction of one ton of confiscated ivory in front of a crowd of thousands.
Standing alongside my colleagues, IFAW's Asia Regional Director Grace Ge Gabriel and North American Regional Director Jeff Flocken, and seeing people in the crowd from many different countries and walks of life, I was struck by how far we have come in building a global movement to protect elephants.
On stage with me today were representatives from the Wildlife Conservation Society, the African Wildlife Foundation, the Humane Society of the US, the National Resources Defense Council, and the World Wildlife Fund, as well as the US Fish & Wildlife Service/Department of the Interior.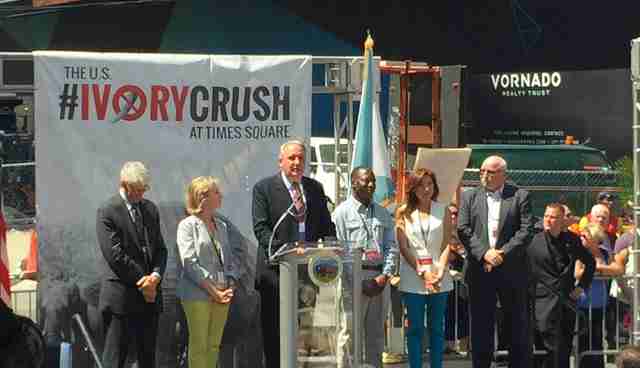 In the last two years, there have been major ivory destruction events in the Philippines, China mainland and Hong Kong, Kenya, Gabon, Chad, Belgium, France, the UK and the US. Supporters of IFAW and other groups around the world have marched and signed petitions for better elephant protection.
We all stand together for stronger protection for elephants, and governments around the world are taking action.
Three weeks ago, at an ivory crush in China, the country that consumes the largest amount of ivory, the government announced that it will halt commercial ivory trade. In early 2014, the USFWS announced plans for new regulations on ivory trade within US - another large consumer of ivory products.
But today, elephants are still being killed to feed the ivory market and governments have yet to implement many of these new plans. The global coalition of groups and individuals committed to protecting elephants from poaching need to keep speaking out.
- Azzedine Downes If you haven't already, please sign our petition asking your government for stronger elephant protection. And sign up for IFAW emails so we can keep you informed about how you can help.