Tiger The Tripawd was an abandoned puppy who was featured on The Dodo back in September 2015 here is his highly anticipated update:
Tiger at Summerland Beach, right after he amputation, about 7 months of age.Jill V. Harper (aka: jill Vedder)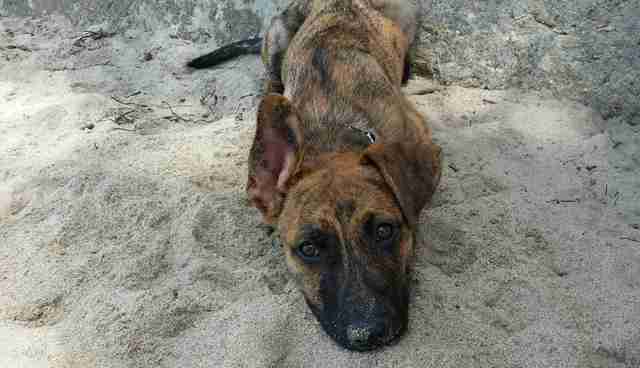 The original Tiger The Tripawd story
The original story had an ending that included a total hip replacement and the hope of total recovery was 90%. However, his story did not go as planned. It turned out to be more struggle, more questions, less answers, less hope. The vets got in to his hip and found that he had an infection that filled his femur. The amount of pus and blood and infection was a minimum of a cup of fluid. The Surgeon cleaned out the infection, clearing out some bone fragments left behind from the original surgery and told me "we will just see what happens next". They also put in a antibiotic sponge to help with the healing and heavy duty IV antibiotics, pain killers which he does not tolerate well and also pill form of antibiotics which made him vomit. He had to take them for over 2 weeks. The next check up, two weeks later, the Dr. advised me he didn't know the odds, but again, he said 'we will see'. After two additional weeks it was obvious Tiger was declining fast. There we more late night emergency visits, over night stays at the hospital and all that could be done was being done. Intravenous pain killers, which barely touched the pain, were being administered. The day after the final emergency visit at 2:00 am when I dropped him off so I could get some rest, I went back in the morning to pick him up. What I was told was that "There is nothing more we can do for Tiger..."
I scheduled a visit with his holistic vet so that I could just do one more thing before making that last painful and possibly compassionate decision. I needed her to see it too...When she saw him, she agreed, there was no more to do, but she did ask that I give her one week with him. "Just one more week, let me do what I can and we'll make the final decision at that time, together". Dr. Scheff worked on him almost daily. She started with her standard care but added homeopathic medicine, several forms, energy work, etc. I also started feeding him ton's of veggies, lentils, vitamin E, Fish oil, carrots, broccoli, lots of kale and spinach all cooked so he'd enjoy it.
Tiger after the second surgery screaming in pain...Jill V Harper (aka: Jill Vedder)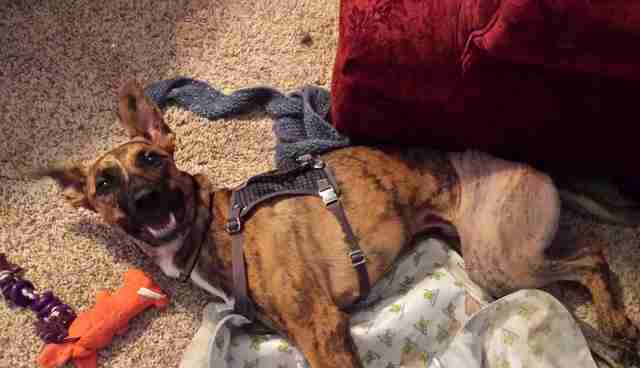 I had called in to my work to tell them I would not be in. I was crying, my boss, who I adore, Debbie, cried with me. All Tiger's friends said their goodbyes to Tiger from the dog park the day before. It was horrid and I was not sure I'd make it through the pain, but that wasn't going to stop me from giving him relief.
But a MIRACLE happened that horrible morning in December. I got up out of bed and walked out to the living area and guess who was sitting there up and alert with his tail wagging with a toy in his mouth? Tiger than RAN and jumped on the bed, grabbed another toy and started playing with the other dogs. He was excited, barking with joy, his emotions were so intense and filled my soul with gratitude. I've never been so relieved, but knew, based on the previous year, the most likely would be temporary. So, I called Dr. Scheff and just told, "not today". She was thrilled.
We all went to the park and I let him be a dog. He played and played and ran and jumped and, of course, I kept him under control so as not to 'overdo it'. But being I hadn't seem him do any of that for weeks, I tried to allow him as much freedom as possible.
I still took the day off and just loved on him, fed him everything healthy. No cookies, just health. He loved his warm stew of lentils and veggies and of course kibble.
Well, it's been about two months now and Tiger has done nothing but progress. His muscles have grown and barely a bone in sight on that left rear hip. He never did get that new hip, but whatever happened during that night of love and me telling him how much I loved him, he got his fight and then his life back. WE got our lives back. Rarely, if ever, does he need to have his pain managed. We did it. We did what we set out to do. We saved Tiger's life! All of us, including all of you who helped with financial and, as importantly, emotional support. We gave this amazing animal the chance to recover and no one, ever gave up. Now, he's the happiest dog in the world and we are the happiest family on the planet.
How I found Tiger on the morning of 12/4/2015Jill V. Harper (aka: Jill Vedder)
Tiger with a big fat smile weeks later!jill V. Harper (aka: jill Vedder)
Tiger and his siblings, jelly and JackJill V. Harper (aka: Jill Vedder)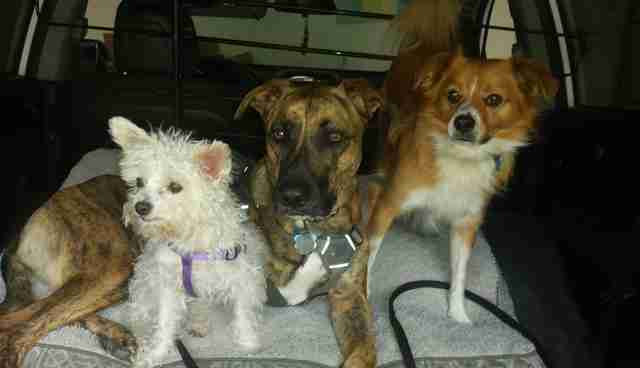 Tiger still goes each week or two to see Dr. Scheff so that we can keep check and make sure we are doing things correctly. This might be for his entire life, we will make that decision as it comes. She makes slight changes in diet, medication, etc. She is instinctive and she knows him well. She is also fascinated with the outcome. She can't tell me why he recovered within that 24 hours of total attention but I know why...LOVE which included dedication and commitment from me, the dr's at VMSG, and Dr. Scheff's unwavering commitment to education and her compassion for the animals.
Tiger is saved. He may not live a long time, he's a very large dog...but he'll have the best life of any dog and be loved by more people than most humans.
Tiger changed my life and has inspired more people than I can count - I'm told this on a daily basis by the people who have watched the process from day one or day 61.
Tiger's treatment ended up costing over $25,000. We raised around 10,000. I sold every item I owned and raised another $4000. So we are still the hole and are looking for help. If you believe in what we did was the right thing, please help us save more like him. I have decided, based on this experience, to start a sanctuary for unwanted animals. My dream is focused, a business plan is in the works. It will happen and I will keep everyone informed. Let's save them all. ALL LIVES MATTER...
Thank you from Tiger the Tripawd and Jill Harper (aka: Jill Vedder)