Tiger Spotted On Arkansas Roadway Turns Out To Be Just A Cuddly Stuffed Animal
<p><a class="checked-link" href="https://www.facebook.com/pages/Bryant-Police-Department/139570392787675">Facebook/Bryant Police Department</a></p>
Police in Bryant, Ark. received what must have been a rather alarming call early last week after a motorist reported seeing what appeared to be a large, dead animal on the side of the road. But not just any animal - a tiger, no less. In Arkansas.
From the police department's Facebook page:
Subject advised that she stopped to take pictures of the animal, but was scared to approach it. Ofc. VanVeelen located the "tiger" and was even nice enough to give him a ride to the PD.
Fortunately, the "tiger" turned out to be far less ferocious than the caller had feared. The officer soon discovered that the big cat was, in fact, just a big, cuddly stuffed animal.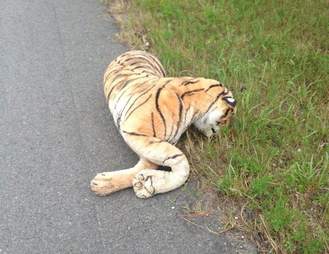 (Facebook/Bryant Police Department)