A red-haired Tibetan mastiff puppy sold for a reported $2 million dollars at a pet expo in Zhejiang, China on Tuesday, in what might be the most expensive pet sale ever recorded. The massive dogs, which can grow to be nearly three feet tall and resemble lions, have become increasingly popular amongst Chinese elite, sending prices for the breed sharply upward in recent years.
The man who bought the puppy at the Zhejiang event, who remains anonymous, is said to be a 56-year-old property developer who hopes to use the dog to start his own mastiff breeding program. Such endeavors have become extremely lucrative; another red Tibetan mastiff reportedly sold for approximately $1.6 million in 2011, and a single breeding session with a top stud can cost as much as $40,000.
"They have lion's blood and are top-of-the-range mastiff studs," the dog's breeder Zhang Gengyun told the Qianjiang Evening News. "Pure Tibetan mastiffs are very rare, just like our nationally treasured pandas, so the prices are so high."
But the high prices also correspond with China's massive economic growth and the development of the country's luxury goods industry, of which Tibetan mastiffs appear to be a huge part. China now has over 800,000 millionaires -- the most in the country's modern history -- and for the first time, a number of people in the upper and middle classes now have disposable income to lavish on a dog.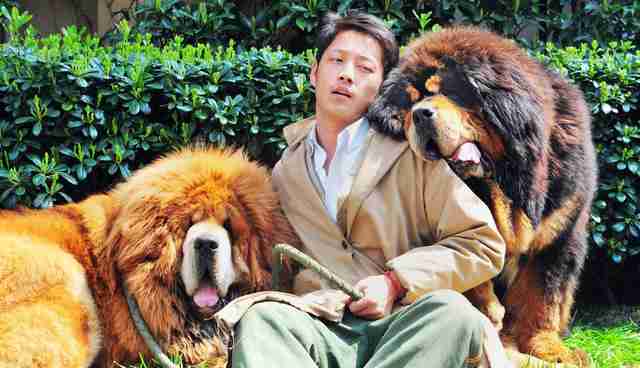 Pet-ownership has long been a contentious issue in China, where dogs historically have been viewed as bourgeois excesses. And concerns about meeting basic human needs often take precedence over animal rights -- dog meat traditionally has been eaten in many rural Chinese villages. Many say that practice is fading away as the country's attitudes toward animals shift naturally and, as more and more Chinese welcome dogs into their homes as pets, there has been a corresponding rise in the number of people fighting to keep dogs out of the kitchen, in a traditional sense.
Countless Chinese have taken to protecting their dogs from restrictive pet-ownership policies, which limit the number and size of dogs people may own. Large dogs, in particular, have been banned in several Chinese cities -- a move that has been met with resentment and quiet protest from many in the country's growing middle class, who have become attached to their pets of all different sizes, temperaments, and breeds.
Photo credit: STR/AFP/Getty Images.