Guy Can't Even With All These Whales Right Now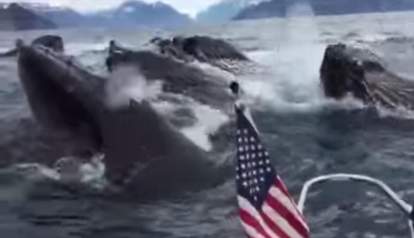 <p><a href="https://www.youtube.com/watch?v=Sj3SJ0Sma40" target="_blank">YouTube/Tony Flanders</a><a href="https://www.youtube.com/watch?v=Sj3SJ0Sma40"></a></p>
Sometimes the most memorable wildlife encounters are the ones you least expect.
Such was the case for Brad Rich and Tony Flanders along the coast of Alaska over the weekend. While cruising the pristine waters of Resurrection Bay in their boat, the pair suddenly found themselves face to face with a group of the region's most imposing locals - a pod of huge, hungry humpback whales. Best of all, they caught the whole thing on film.
One of the men's excitement was especially uncontainable (so, ahem, video contains mild profanity).
The boaters were never in any danger, of course, as the humpbacks were bursting from the water to feed on fish. Still, that made the experience no less humbling for Rich and his friend.
"I was just in awe," he told news station KTVA. "I knew that humpbacks do this group feeding. So I knew what was happening as soon as it happened. But to be in the middle of that, to actually experience that as [opposed] to just watching it, it was the most awe-inspiring thing, it's the most amazing thing to have ever happened to me."