Three Puppies Dumped and Left for Dead Seek New Homes
Three tiny, bedraggled and neglected puppies were brought into The Mayhew Animal Home on Boxing Day after being found dumped in a box and left for dead by the side of a road. They were possibly bred for Christmas, and when they weren't sold, they were cruelly dumped to die.
The young and defenceless puppies were just a few weeks old and were left out in the cold on Boxing Day with only a flimsy box for shelter. Luckily they were found and brought to London rescue centre and shelter The Mayhew Animal Home.
Photo:The Mayhew Animal Home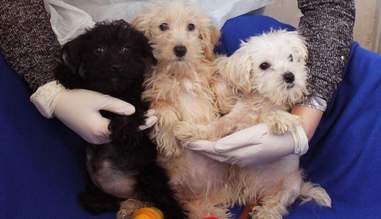 Staff named them Sky, Pearl and Leo. All three puppies were found starving and with a severe lice infection and covered in flea eggs. Leo was the smallest of the puppies and he had alopecia over most of his body with a swollen stomach caused by worms. Because they were malnourished, Leo's alopecia had worsened. When he first came into the shelter, the flea eggs were very visible in his dark, black fur.
The puppies were quickly treated by vets, fed lots of food and water and settled into a quiet and warm kennel so that they felt safe and secure after their ordeal.
The puppies brightened up during their care at The Mayhew, and started to show their individual personalities. Little boy Leo is such a dude and loves to run about and play with his squishy toys. Lovable girl Sky is the liveliest and cheekiest pup of the bunch, who is always on the move and always looking to see what everyone else is doing. Beautiful puppy Pearl is the most laid back pup of the bunch, though she does love to play with her brother and sister.
Thankfully the pups are ready to find their forever homes. Pearl and Sky are ready for adoption, you can see gorgeous Pearl here and cutypie Sky here. Leo will be ready in a few weeks.
Pearl looks much healthier. Photo: The Mayhew Animal Home
Pearl and Sky. Photo: The Mayhew Animal Home
Leo will be ready for rehoming soon. Photo: The Mayhew Animal Home