For new amputees, coping with the life-changing loss of a limb can be an emotionally devastating ordeal, perhaps only fully understood by those who have had the same experience. Thankfully, patients at an office in Westport, Massachusetts have friend who knows exactly what they're going through.
Last October, an 8-year-old black Lab named Callie Mae was dropped off at a veterinary clinic in town by her former owner, suffering from nerve and tissue damage that left one of her front forearms paralyzed and prone to injury. After having the limb amputated, she was lucky to be adopted into a new family by the Easterbooks, who operate Atlantic Prosthetics & Orthotics.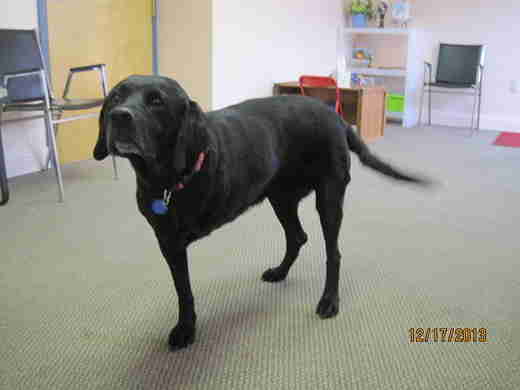 According to Boston.com, for the last two months Callie Mae has been serving as office pet, offering moral support and a wagging tail to patients who have themselves recently lost a limb.
"Callie's constant presence is immeasurably beneficial to patients who often cannot shake hands or rise to greet, but who take tremendous comfort when Callie stations herself by their side," says Kathleen Easterbooks.
"It's almost like she understands, given her own amputation, how challenging it can be for humans patients who are trying to make their way in the world despite their disabilities. It's heartwarming to see Callie in action."