Dog Lost His Front Leg In An Accident — So His Dad Draws Him A New One Every Day
He and his cartoon arms go on so many different adventures.
After Charley Desrochers was in a car accident and suffered from post-concussion symptoms, he and his girlfriend decided to adopt a dog to help them cope. He searched around for a while, trying to find the perfect dog - and then he met Bradley.
Bradley was rescued as a stray after he was also hit by a car while living on the streets. His leg was paralyzed when he was found, and because he'd been dragging it around for a while, the bone was starting to deteriorate. He was already scheduled to have the leg amputated when he met his future parents.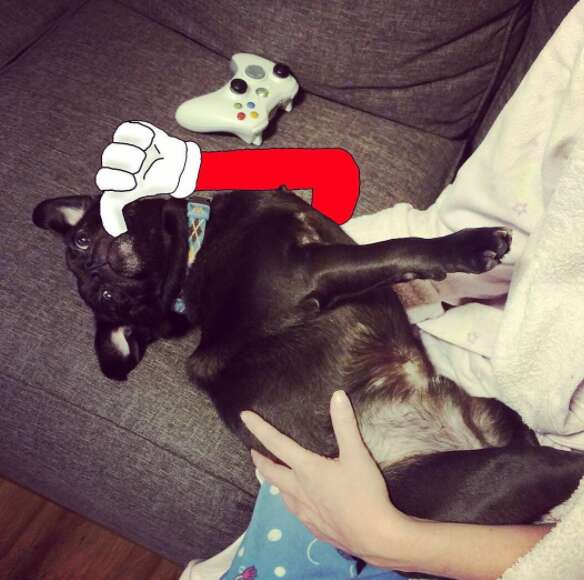 "At first we had a few reservations, but after a few weeks of seeing him trying to use his gimp leg to walk and how damaged it would get, even though we tried to have him wear a boot, we knew it would be for the best to go through with the operation," Desrochers told The Dodo.
Because he was already used to living with a paralyzed leg, Bradley took no time at all to adjust to life as a three-legged dog. It took him a little time to warm up to his new home and come out of his shell, but as soon as he did, he became the goofiest, sweetest dog his parents had ever met.
"The best thing about him is how emphatic he is," Desrochers said. "He's such a sweet dog and he knows when we are having our rough days. He loves to cuddle with us and knows we cheer up when he lets us rub his belly."
Desrochers and his girlfriend love what a goofy, sweet dog Bradley is - and one day, they decided they wanted to share that uniqueness with the world in a special way.
"Marianne and I are improvisors and we're always coming up with jokes and bits with each other," Desrochers said. "The hand idea came because the voice we use when we pretend Bradley can talk is like a Mickey Mouse voice, so we just started riffing on what his cartoon Disney arm would be doing."
Desrochers started taking pictures of three-legged Bradley, and drawing in a quirky cartoon arm where his missing leg would be. He draws Bradley's cartoon arm in all sorts of positions doing all kinds of things ...
... and Bradley and his arm go on different adventures and perform different tasks every single day.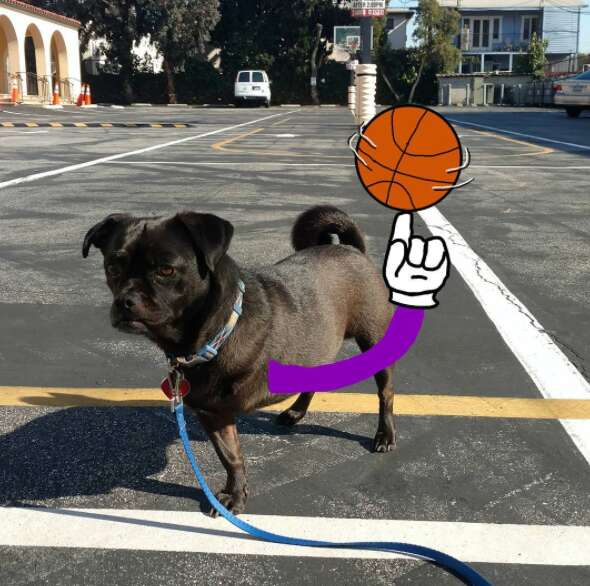 "I just try to frame Bradley well when I take the photos and I think of the arm and what he's doing as I draw the picture," Desrochers said. "Ultimately I try to do things that will make Marianne go, 'Oh my God that's cute!'"
Soon, the couple started posting Bradley and his cartoon arm on Instagram. Everyone who sees the pictures seems to love them so much and take inspiration from brave little three-legged Bradley.
"He's gotten nothing but love," Desrochers said. "If anything, people like the little world that Bradley lives in and we've gotten a ton of positive feedback from other tripawd parents, which means a lot to us."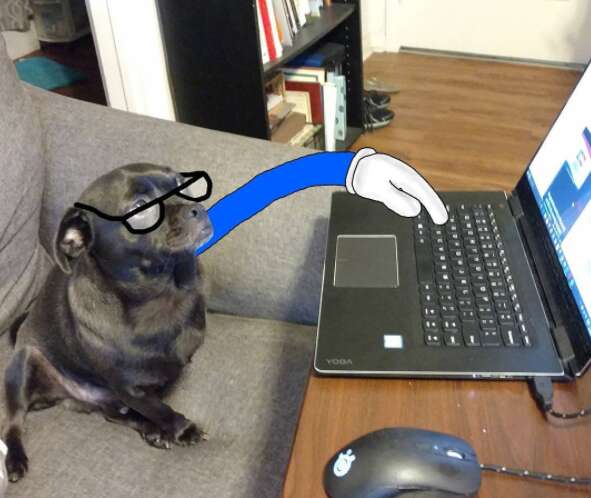 Bradley may only have three legs, but with his amazing attitude and his dad's artistic skill, there's nothing he can't do.
"He gets around so well that most people don't even realize he's missing a leg until they take a second look," Desrochers said.