Tiny Kitten Lost On The Streets Of L.A. Was Missing A Paw
"It hurts my heart to think of a kitten that sweet and tiny, all alone in the world with that much pain."
The thing that strikes you most when meeting Q for the first time is not his missing leg - in fact, with his longish hair and feline agility, it's hardly noticeable.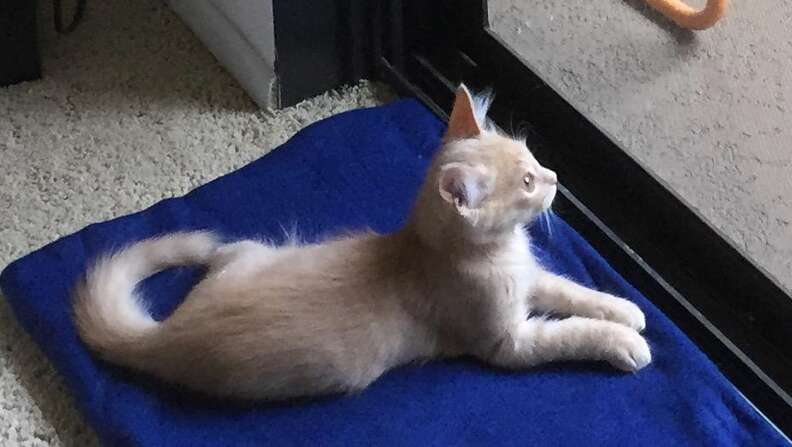 What really stands out about this orange 1-year-old boy is his carefree spirit and trusting nature.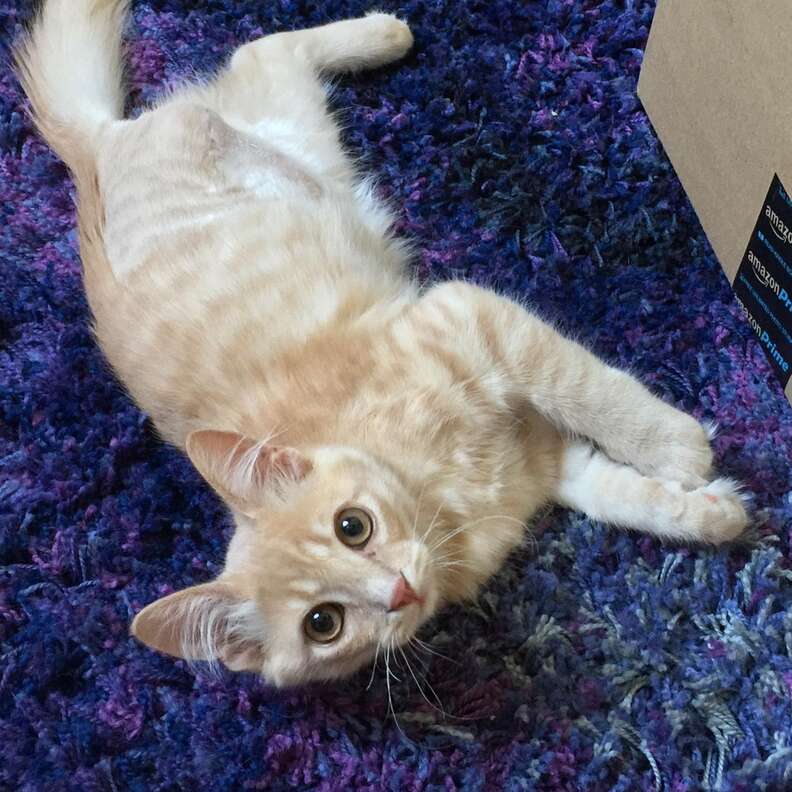 Q was found as a 5-week-old stray, covered in fleas and missing his left back paw, by a Good Samaritan on the streets of Los Angeles almost a year ago. Considering what he's been through, it's surprising he doesn't spend most of his days hiding under the bed.
"He loves to play ... especially with wand toys," Shirley Bell, who adopted Q from Best Friends Animal Society's Los Angeles kitten nursery last spring, tells The Dodo. "Every day he begs at the closet door where they're kept until I get one out. He runs and jumps at them for as long as I play with him."
Despite his missing paw, it didn't take Q - who was known as Quinton then - much time to find a home.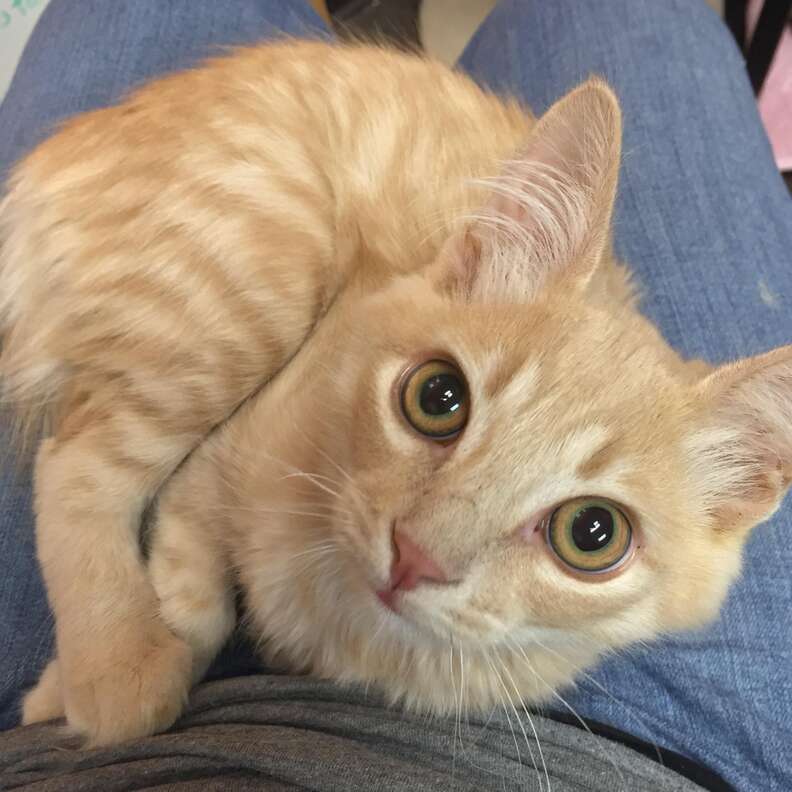 "He was purring so loudly that you could hear him purring inside his little carrier from around the corner," Best Friends cat behavior & enrichment lead Samantha Bell, who is also Shirley's daughter, tells The Dodo. "Our nursery manager immediately texted me and said 'You have to come see this kitten!' She knew I would fall for him - and I did. He was rolling around on his back, making air biscuits in the carrier, purring and saying hi to everyone he saw. I felt like he was truly happy to be rescued."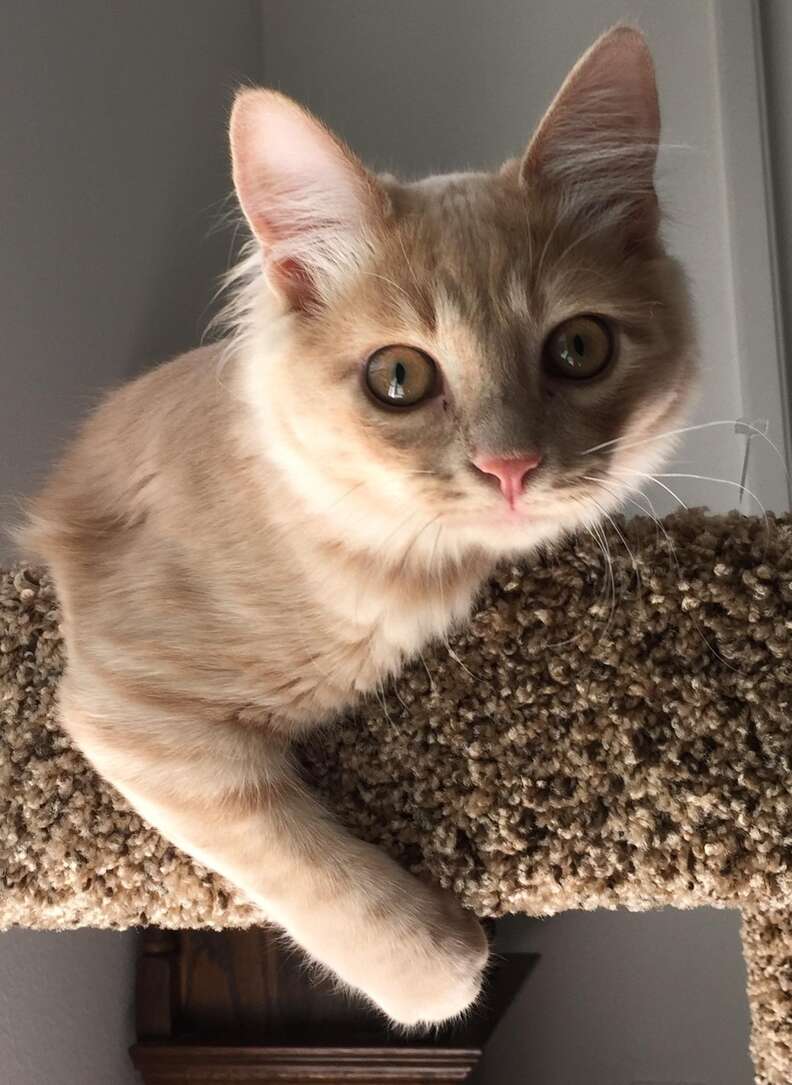 With Samantha's soft spot for orange male cats who have challenges, Q - she calls him Quint - immediately had a foster home. But because Samantha already has three adopted cats (the limit in Los Angeles), she couldn't keep him. But her mom fell in love with him.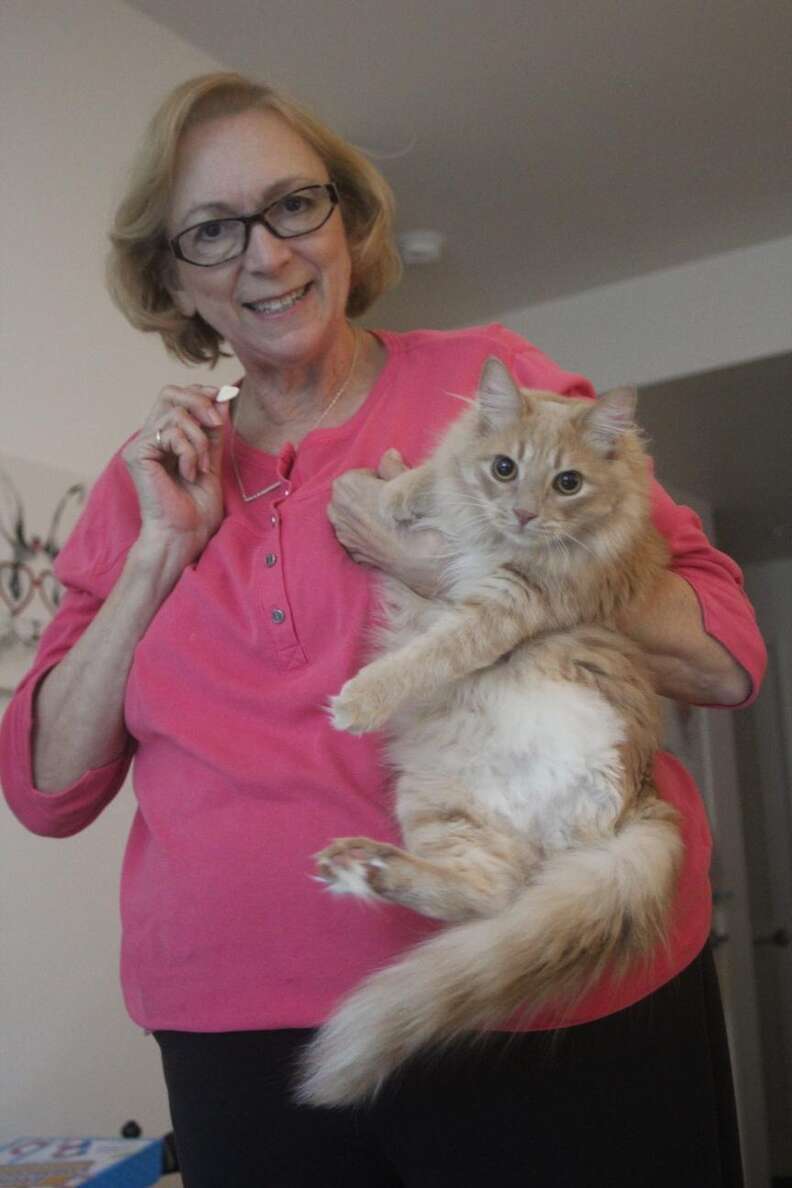 "Quint was so cute, fluffy, loving and very brave," says Shirley. "Knowing he had been alone and in pain on the streets of L.A., yet was so full of love, melted my heart."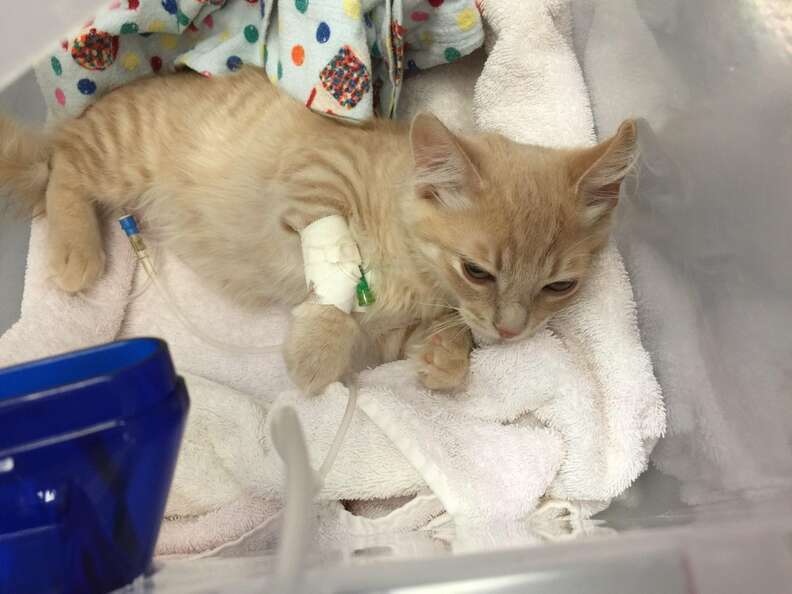 No one knows what happened to Q's paw, but it's possible it was bitten off by another animal.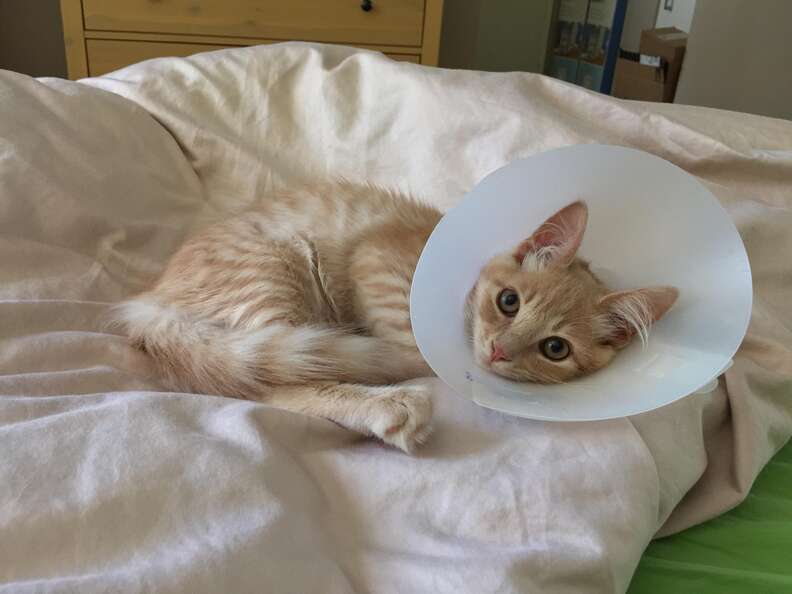 "It was already healed over when he came to us, so we can't know for sure, but that's what the vets guessed," says Samantha. "It hurts my heart to think of a kitten that sweet and tiny, all alone in the world with that much pain. He probably had to hide in bushes for a while so dogs and coyotes didn't get him."
Because the paw healed on its own without proper cleaning, there was infection inside the leg, according to Samantha.
"The second night Quint was with us, I noticed that his leg had swollen to almost twice its width," Samantha says. "I took him to our vet at Best Friends, and she drained the abscess, and prescribed a round of antibiotics to fight this infection. Soon after that, it happened again. His leg was drained again, and a different type of antibiotics were prescribed. This kept happening over and over, draining and new antibiotics, which led them to believe that they may need to remove the leg before this persistent infection spread. He was so tiny, and this infection could have killed him."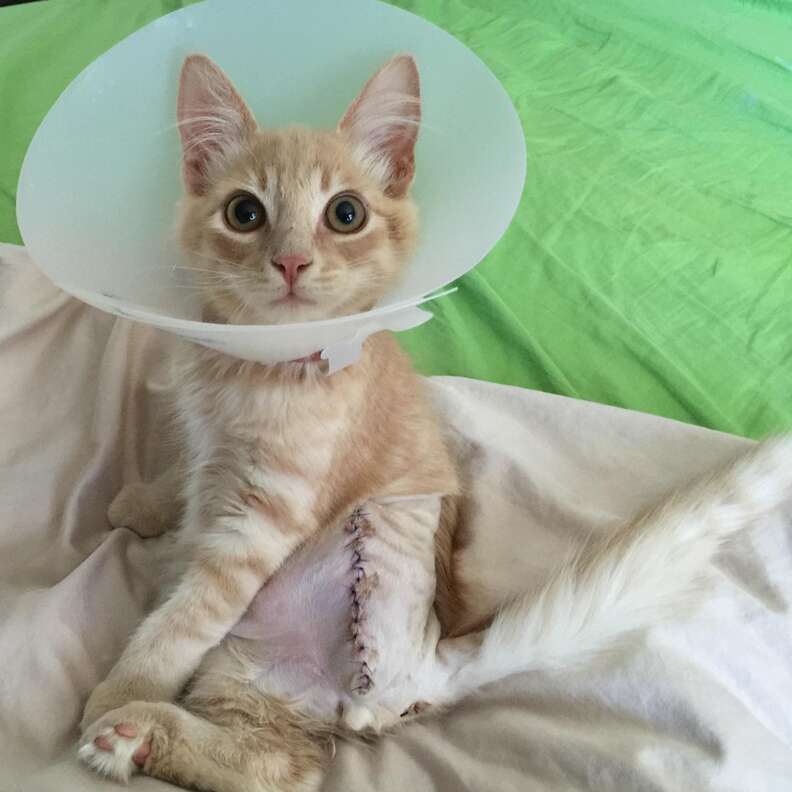 Q's leg was amputated. Somehow, he seemed to bounce right back.
"He took the surgery much better than I did - I was a wreck," Samantha says. "I visited him minutes after his surgery, and he was all bundled up, still purring and making biscuits and saying hi to me. It makes me cry thinking about it now. He's amazing. Animals are so strong, but Quint is also so loving on top of being so strong. He's a little fighter, but still so full of love and affection."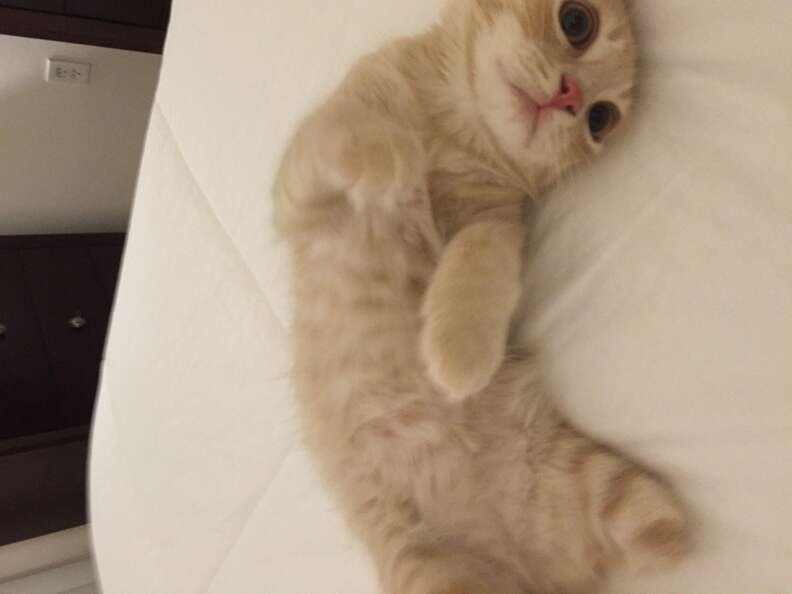 Celebrating a year in his new home in April, it's clear that Q is enjoying life to its fullest. In the apartment he shares with Shirley, the vibrant young cat eagerly greets a new guest by rolling on his back and with a little bit of kitty talk.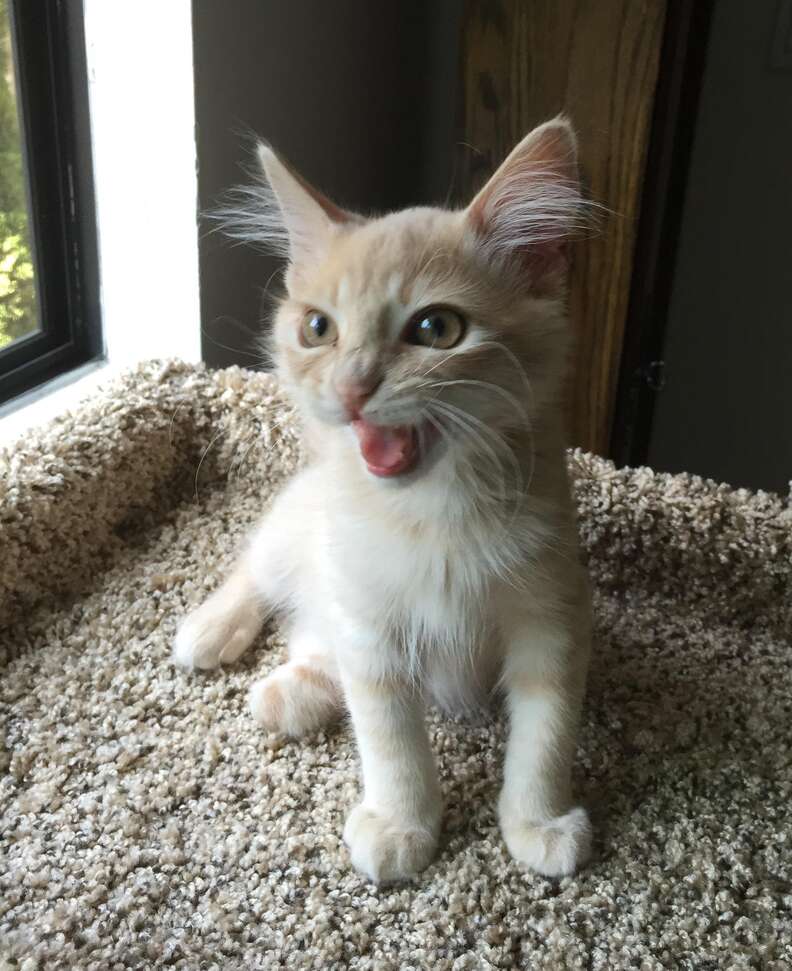 Though he's a little wary of being photographed with a strange-looking camera, he's enticed out by Shirley with the help of some delicious treats. The carpeted apartment floor is full of his toys, including a well-stocked basket, and also houses a three-tiered cat condo by the window, where he spends mornings chirping at the birds.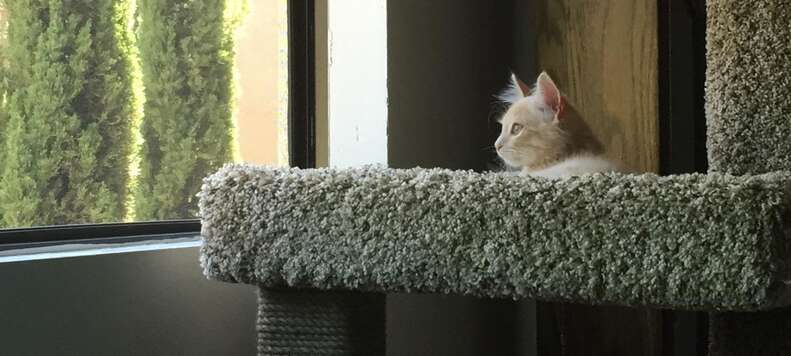 "That's my Q baby," Shirley says. "I'm very lucky to have him."