Shocking images and video from a dog meat festival in Yulin, China stirred collective international outrage this summer. Footage depicting dogs crammed in cages, looking on awaiting the same fate of the dogs slaughtered in front of them provoked outrage from a public horrified at seeing animals they consider family pets suffering unspeakable cruelty. Fortunately, Chinese animal activists have bravely stepped forward and saved the lives of countless of dogs in China awaiting a similar fate.

Local activists bravely took to the streets to protest the cruelty at Yulin, often facing violent confrontation from opponents while authorities turned their backs. It didn't stop them from rescuing dogs from the slaughterhouse floor, many times only moments before certain death. In the days following this year's Yulin festival, and with the help of Humane Society International, activists with VShine, EShine and Xi'an Small Animal Protection Association created an animal rescue task force to coordinate the interception of trucks filled with dogs bound for slaughter.
These are only the latest actions by local activists in their effort to shut down the dog meat trade. A prominent Hong Kong businessman and artist, Mr. Genlin, has directed a documentary, "Eating Happiness," capturing the courageous work of Chinese activists to end the dog meat trade. The documentary also looks at the dog meat trade in South Korea - where dogs are farmed for their meat - and in Vietnam.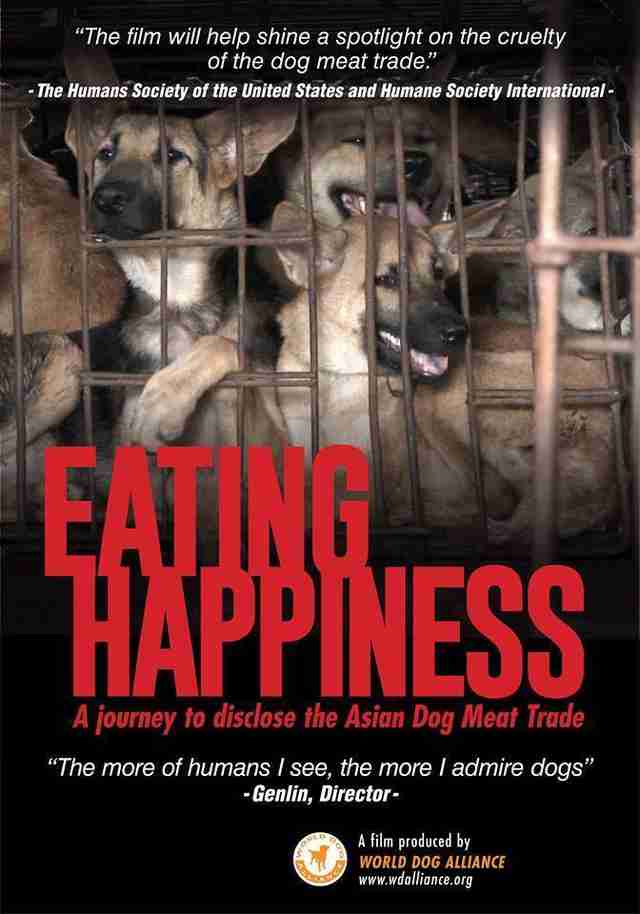 The film has been previewed for select audiences in Italy, the UK and Canada (where it is vying for a spot in the Toronto International Film Festival), and reaction has been unanimously positive. Hopefully its message can reach as many people as possible and finally put an end to the commercial dog meat trade for good.
There is no doubt that change is coming to China, as locals become more aware of the human-animal bond and a culture of pet ownership grows. More than 130 million dogs now live in China, including 27 million who are kept as pets. And more and more advocates are invoking China's existing laws and regulations to expose dog meat traders who are engaging in criminal conduct by kidnapping pets. The outcry sparked among the Chinese themselves led the Yulin government to ban the slaughter of the animals in public, and mandating that the words "dog meat" be removed from all banners related to the festival in 2014. That year activists stopped 18 trucks bound for the slaughterhouses and rescued more than 8,000 dogs. In the weeks leading to this year's festival, thousands of activists from across China took to the streets demanding that officials shut it down. The slaughter continued this year, but in the cover of night and behind closed doors.
As the most influential regional power, China occupies a strategic position in the global campaign against the dog meat trade. Its eventual success in ending the dog meat trade has the potential to set off a chain reaction in the region and to save millions of dogs from this cruel fate.
Top photo: Dalian dog meat protest