This Dog Is One Of Thousands Who Will Spend The Holidays In A Shelter
This is Montgomery.
MontgomeryBig Fluffy Dog rescue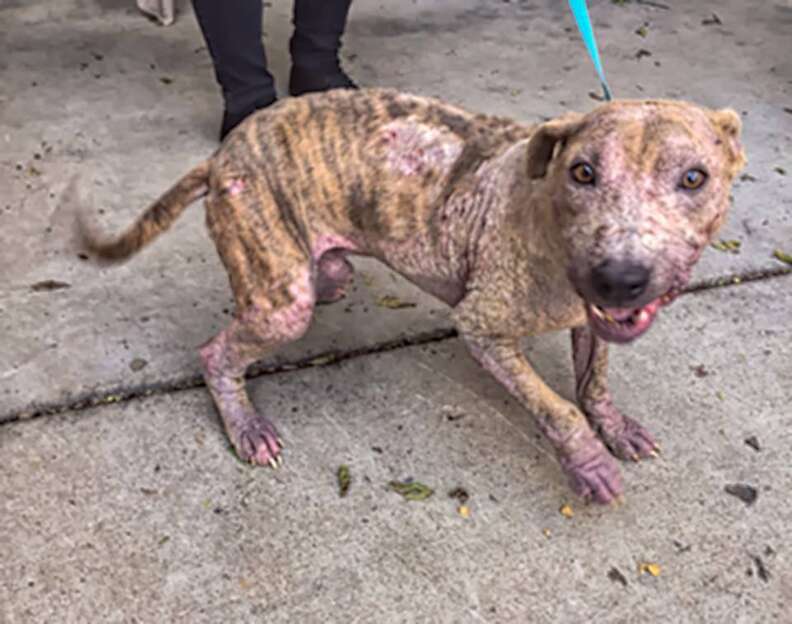 Montgomery has mange. And because of this, someone thought it was best to treat him. So they did - with industrial solvent.
Which means Montgomery is covered in chemical burns.
He is #16 on a list of dogs that Big Fluffy Dog (BFD) - a Nashville, Tennessee, dog rescue group - is on a mission to help as soon as possible in what is ostensibly a joyous season.
"Every year, people dump their dogs at shelters right before the holidays. Shelters get full and dogs die because people are thoughtless. I dread Thanksgiving for that reason," writes BFD's founder Jeanne Harrison on the organization's Facebook page.
So BFD is making a swift appeal to fundraise as much as it can before Thanksgiving: "We are poor and we are running at close to capacity. I would like to squeeze in more, but fiscal responsibility means that I have to say no. I don't feel like saying no, so I am going to fundraise and we will take in as many dogs from kill shelters as we can fundraise for in the next two days," adds Harrison on her post.
The organization has a network of hundreds of dogs in foster homes along the East Coast and is also expanding into Texas, a rep told The Dodo. But the group has its eye on helping animals everywhere, like Jesse, who's in a shelter in Arkansas.
JesseBig Fluffy Dog rescue