This Otter Mama nurses her newborn pup after surviving an oil slick!
http://www.youtube.com/watch?v=Qtb11P1FWnc This adorable mother and child photo is from Monterey Bay, where, once upon a time, the California Department of Fish and Wildlife found a bedraggled adult female sea otter, dangerously fouled by an oil slick, on Sunset State Beach.
Rescuers sprang into action, and, from February 21, 2009, until April 7, 2009, nursed her back to health. During her intensive rehab at the Marine Wildlife Veterinary Care and Research Center in Santa Cruz, California, she was carefully cleaned up.
One of her cleansing treatments was a bath in olive oil! Of course, when she was released back into the wild, her rescuers named her Olive!
Olive was once again a happy, healthy otter, sighted in the kelp beds around beautiful Monterey Bay, a marine sanctuary. But she wasn't done amazing us: in September 2012, Olive became the first California sea otter to become a mama after being rescued from oiling! Here is a picture of the new mama and her first pup, a girl baby:
That blue flipper tag, which she was released back into the wild with, tells researchers that it's Olive! Olive and her first pup were seen around the bay--usually nestled on a kelp bed, feeding and playing and bonding. Otter babies stay right with mama otter for about six months, until they are weaned.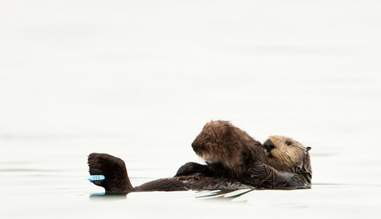 In this video taken in awe-inspiring Monterey Bay, Olive and her tiny newborn pup are together in the wild!
Olive the otter with second pup
An otter, previously contaminated with oil and rescued by in 2009 by CDFW's Marine Wildlife Veterinary Care and Research Center, has delivered her second pup.
And... Olive has her own Facebook page, as any public figure should! It's maintained by Olive's rescuers, the California Department of Fish and Game's Office of Spill Prevention and Response.
"Olive" the Oiled Otter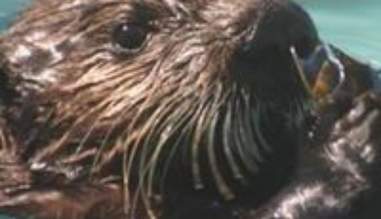 Olive was last spotted off Pleasure Point, according to her page. It is a great resource for news and photos of Olive--and of her pups before they were weaned--and for important information on wildlife rescue, on the challenges faced by oiled wildlife, and on the sea otters of California.