This Isn't The First Time A Dog Owner's Gone Through Hell With An Airline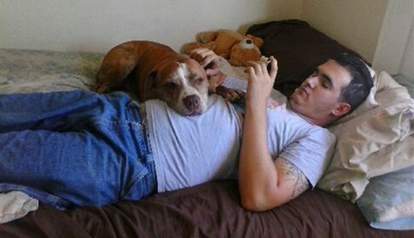 A considerable amount of luggage is lost by airlines every year - but what happens when that lost luggage contains a family pet?
Delta Airlines lost passenger Frank Romano's 6-year-old pit bull rescue, Ty, roughly over a week ago, and there seems to be very little hope of Ty's return. The dog went missing during Romano's transit from Los Angeles International Airport to Tampa, Florida on October 31. Romano told TODAY that he was pulled aside by a Delta agent as he was about to board the plane to Tampa. "She took me to the side and said, 'Oh your dog went missing, he chewed through the kennel, but we found him, we just need you to identify him," said Romano. "And then two minutes later, she told me that he ran away an hour ago and they still can't find him."
(TODAY)
Delta spokesman Morgan Durant said in a statement that "Delta continues to investigate what happened, but early indications show procedures were followed, and the dog may have compromised the kennel on its own." Delta sent photos of the broken kennel to Romano, who is skeptical about Ty inflicting the damage. He tells TODAY, "To me honestly, it looks like it was broken from the outside ... Like the metal door was off the hinges and everything. It doesn't look like a dog bit through that."
(TODAY)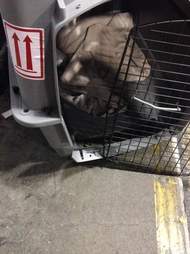 Romano told CNN that the airport still isn't giving him straight answers concerning the circumstances of Ty's disappearance or the progress of the search. However, according to TODAY, Delta has reportedly suspended its search for the dog.
This is far from being the first instance of a pet disappearing in airport security. According to 2013 data from the Department of Transportation, last year 21 pets died in transit/at airports, 15 were injured, and six were lost.
Luckily, Ty is microchipped, so there is hope that he will turn up soon. Romano told TODAY, "I just want my dog back safe and sound ... He's my best friend. I just want to see him again."
(TODAY)