Humans living along Hawaii's coast are negatively affecting nearby green sea turtles, a new report has found.
Agricultural and urban runoff is linked to more tumorous growths on the sea turtles, according to marine biologists at the National Oceanic and Atmospheric Administration, Duke University and the University of Hawaii.
WARNING: Some people may find the image below unsettling.
"We're drawing direct lines from human nutrient inputs to the reef ecosystem, and how it affects wildlife," says Van Houtan, a Duke biologist and a scientist with NOAA's Turtle Research Program, in a statement.
Researchers tracked down where green turtles had high rates of fibropapillomatosis, a disease that causes large white tumors to sprout up around turtles' eyes, flippers and armpits.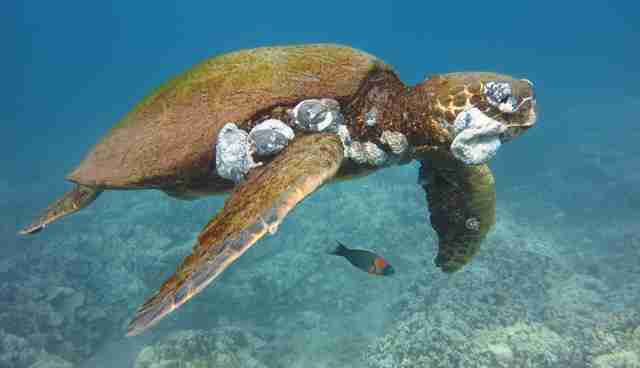 Examining the turtles' tumors revealed unusually high amounts of a molecule called arginine - a trait the sick reptiles shared with their primary food source, algae. One species of algae, Hypnea musciformis, is packed with arginine; this invasive species both outcompetes local algae and is less nutritious, so sea turtles need to eat twice as much Hypnea to get the same calories native algae would offer.