This Is How Big Oil Is Torturing Whales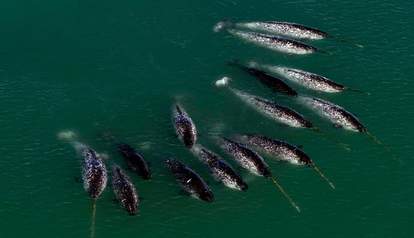 <p> Jason Box / Greenpace </p>
Underwater image of an iceberg and glacier at Prince Christian Sound, North Atlantic Sea, Greenland. © Christian Åslund / Greenpeace
Right now, oil companies like Shell are sponsoring Arctic destruction, in the form of seismic blasting - mapping the Arctic seabed for oil. In the Greenland Sea, blasts from 16 massive airguns are emitted every 10 seconds, 24 hours a day, seven days a week. The blasts can make whales lose their hearing and sense of direction, and to a human will be perceived eight times louder than a jumbo jet.
A Greenpeace ship, the Arctic Sunrise, is now sailing east of Greenland to document seismic blasting activities in the area.
Four people from four continents are on board the Arctic Sunrise and they want to share their experience with all of us. Watch this video to be part of their journey north to encounter a seismic blasting fleet that poses a deafeningly loud threat to narwhals, walrus and other spectacular wildlife.
This is how seismic blasting looks like under the surface: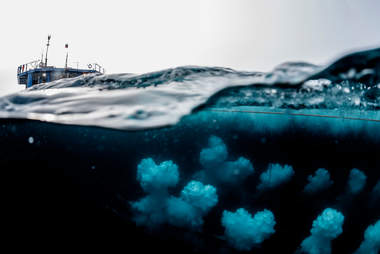 Photo: Christian Åslund / Greenpeace
And here are the beautiful marine mammals threatened by it:
Photo: Jason Box / Greenpeace