4 Beautiful, Small Acts Of Rhino Courage
"Think Big, Start Small, Act Now." That is the sign hanging over General Jooste's desk in his office in SANParks. Watching a rhino take its final breaths, after having it's back broken and it's horn hacked off by poachers, prompted Jooste to begin his current position overseeing anti-poaching efforts in Kruger National Park.
The bloody struggle, demands and frustration he, and everyone on the ground must bear witness to daily is unimaginable. Yet he stands firm. He continues to do what he can, fulfilling his duties in the war against poaching. So what can we do? Most of us aren't decorated military generals, or park rangers. But paying heed to his motto, we can all do something.
1. These adorable newlyweds
Mike and Sam, a U.K. couple were married in May of 2014. Having grown up in South Africa and heartbroken over the escalation in rhino poaching, they asked that in lieu of wedding gifts, people contribute money to be donated to rhino conservation. From there, they've started to ask other couples to continue doing the same. Thus, Wedding Gifts for Rhinos was born.
2. This crafty 7-year old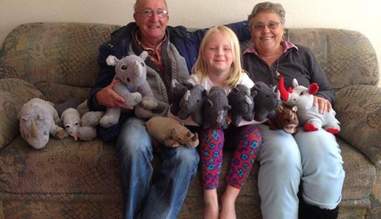 Alyssa is a seven year-old girl who was brought to tears when she heard of our rhinos being killed. With the help of her mom and dad, she sells chocolates, printed with a picture she drew of a rhino. Since then, she has branched out, selling knitted rhinos, stickers, etc. The money she gets is being saved toward her end goal of buying a sniffer dog for anti-poaching efforts at SANParks. She has already raised over R15000 in two months.
3. This inspiringly dedicated guide
Sam is a certified guide in Southern Africa whose love of rhinos inspired him to do the 500km Rhino Awareness Walk. Moved by his grandfather's words "none of us inherited our wildlife from our grandparents, but it is loaned to us by our children," he is doing what he can, walking to raise funds and awareness in his community toward wildlife poaching.
4. This artsy small-business owner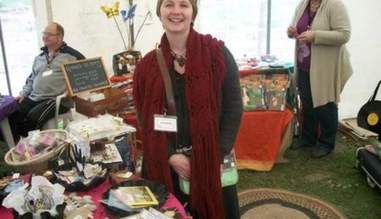 In 2012, Tracy, the owner of an arts and crafts store in South Africa, was moved to action after she saw the poaching of Thandi and Themba. She began selling "rhino tears", necklaces she designed to raise funds to fight poaching. Her original goal of selling 20, has gone beyond 700 necklaces worldwide.