If someone asks you, "Which animal am I thinking of? It's got whiskers, is an excellent hunter, climbs trees, and is playful," you might guess a cat or otherwise something cute and fuzzy. The last animal that would come to mind would be a reptile. However, new and old research is forming an image of crocs' characteristics and behaviors that is far more interesting than we ever gave them credit for!

(For the sake of definitions, when I write crocodiles or crocs, I am referring to the taxonomic order Crocodilia - which includes 23 species, not just its namesake but also alligators, caimans, gharals etc.)
1. Loving parents
Image: Kristina Necovska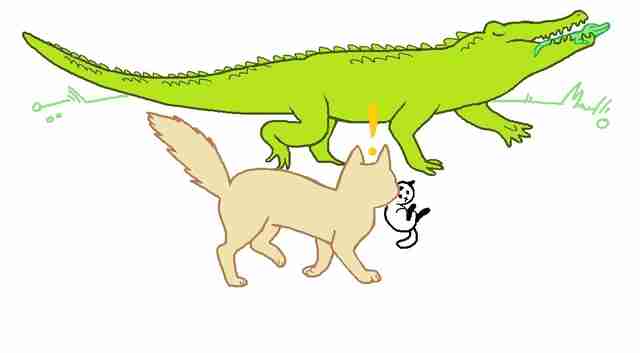 Among reptiles, they provide the most parental care out of arguably any species. Not only will Nile crocodiles protect their eggs while they incubate, but they also carry hatchlings to safe ponds where they can practice hunting frogs and bugs. Many times, a single adult will look after an entire nursery of babies as well. On rare occasions, they have even been filmed feeding their young bits of meat.
2. Playful creatures
Image: Kristina Necovska

While your cat is batting around a ball of aluminum foil, chances are there's a gator out there doing the exact same thing. Crocodilians all engage in the three types of play distinguished by ethologists (locomotor play, object play and social play). In my last article, I mentioned that some reptiles engage in one type, such as turtles, but others, like monitors, engage in all three. It is safe to say that intelligence and play go hand in hand.
Crocs have been observed doing lots of strange things that if observed in a mammal would undeniably be called playful behavior. They'll play with their food, wooden balls, flowers, and other things floating in the water. They also surf the waves, seemingly for fun. Young caimans will engage in social play by "courting" each other or riding on each others backs. Further reading about reptilian play behaviors can be found here.
3. "Invisible whiskers"
Whiskers are sensory hairs that are used to detect minute movements in an animal's immediate vicinity. People tend to think that if an animal has scales, it means their sense of touch is dull. Recent research has uncovered that crocodilians' faces are very sensitive, much more sensitive and delicately tuned than humans. They can detect a single drop of water falling into a pond from just a few feet away through something called the trigeminal nerve. This sensitivity is akin to the sensitivity of other animals possessing special sensory hairs or whiskers on their faces. The trigeminal nerve in these animals is large on its own, and proportionately much larger comparatively to humans. The next step for evolutionary biologists is to determine how, why and when these structures evolved in their history.
4. Good at climbing trees
Crocs are fearsome animals on their own. They're immensely strong and lightning quick (when they want to be). And the last place you'd ever think to see one is in the branches above you. But throughout the last few years, science news sites picked up on strange reports that people had seen crocs in trees. Skeptics would claim that laypeople's observations were mistaken for another animal or that more evidence would have to roll in before a claim could be made that this is a common behavior. University of Tennessee zoologist Vladimir Dinets is the first to thoroughly study this behavior and his research was published in the journal Herpetology earlier this month. Researchers found that four species on three different continents could climb trees and did so of their own volition, apparently. They found that generally smaller animals could climb higher, sometimes as high as the crown of the tree and would drop down into the water when startled. What could be driving this behavior? Possible explanations range from thermoregulation, surveying their surroundings to being downright terrifying.
5. Shrewd hunters
Cats are generally solitary animals, and with the exception of lions, also hunt alone. The same was thought true for crocs but research has found that not only are crocodiles able to hunt together, but they also may have roles that play to their strengths. The degree to which they coordinate their efforts is largely unknown, but they have been found to corral large animals into the shallow waters where smaller more agile crocs lay in hiding. In the water, too, they circle around groups of fish, driving them into small tightly packed "baitballs" and then take turns passing through the middle to grab mouthfuls of fish. Further reading can be found in the Oct. 2014 issue Ethology, Ecology and Evolution, abstract here.
6. Mammalian motion
All crocodilians are able to "high-walk". This is the mode of locomotion that is typical of non-reptilian tetrapods - they have all four legs aligned directly beneath their body. Most reptiles' bodies have their legs splayed out horizontally instead of vertically and this results in a walking motion that is reminiscent of the undulating way a fish swims through the water. Crocs high-walk when they need to traverse dry land, but they are also capable of the "low-walk" that is common to reptiles as well. How are they able to be the exception? The answer has to do with their physiology; they possess ankle joints that are more flexible than other reptiles. That also means ...
6.5 Galloping gators
Galloping gators. Add that to your lexicon, or don't. Galloping is a mammalian thing, but don't you worry, crocs have got it covered.
Bonus material
There are entire books written about crocodilian behavior and in doing this research I found so many more fascinating tidbits than I had use for. So here are some bonus facts that really drives home how fascinating and clever these animals really are.
7. Tool users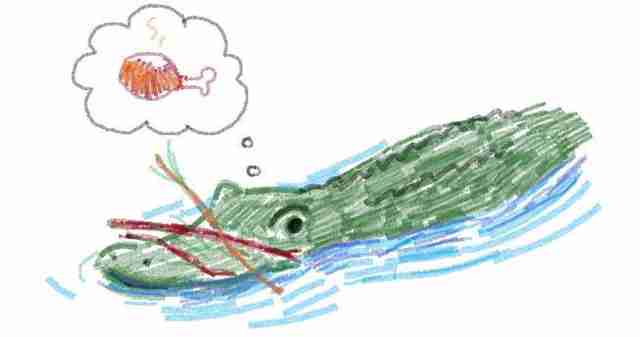 Again, crocs prove an exception to many rules thought only to pertain to mammals. Over a four year field research project, zoologist Vladimir Dinets found that in bird-breeding months, March to May, a significant number of alligators would wait in shallow waters with sticks displayed prominently over their snouts. We can infer that they had observed birds gathering sticks as nesting materials near the water's edge and would similarly use sticks found floating in the water as lures to get the birds to wade into shallow waters.
8. Sweet tooth
Image: Kristina Necovska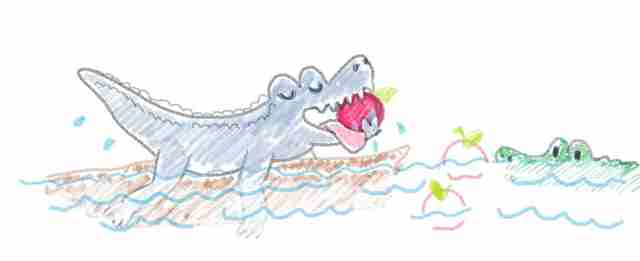 Besides a taste for poultry, a self-respecting croc also leaves a little room for dessert. A study performed by the Wildlife Conservation Society included observations by naturalists the world over found something strange about gators and crocs' feeding habits. Crocodilians aren't exclusive carnivores - sometimes they eat plants and fruits. Why? It may be that they simply provide a nutritional supplement. Studies will have to conclude the whys, but for now, it's safe to say even the most steadfast carnivores like a little variety from time to time. The study is published in the July 2013 issue of Journal of Zoology.