Things in New York that break your heart, in a good way, part a million: The lengths people go to in order to "walk" their very old dogs, or to at least get them a little bit of fresh air, entertainment and good (meaning mostly bad) doggie smells. I've met blind dogs and deaf dogs and dogs that can no longer walk on my twice-daily trips to Central Park, but all of them still can smell.
Every morning a tiny old woman glides toward me, slowly and serenely, on a walker that's tricked out with a screened-in dog carrier for her tiny old poodle up top. Sometimes, but not always, the woman smiles at me and my poorly trained mini-labradoodle Sadie, as Sadie drags me up a hill to her favorite tree and my right knee twinges a little. I think to myself, I'm not young, but I'm not old. Yet. Sadie and I can still fly up those hills.
Another woman I see regularly pulls one of her four lhasa-apsos in a grocery cart. Then there's a man, younger than me, who keeps his blind, 14-year-old wire-haired fox terrier in a backpack, which he wears on his chest with the dog facing out a mesh screen. One day he put it down gently on the grass, and unzipped it, to let his big-eyed dog, wizened and faded beige but still alert, smell Sadie. She remained sitting, but she stretched her regal neck out of her carrier, until her black nose found Sadie's stinky ear. Sadie, uncharacteristically, sat patiently and allowed herself to be sniffed. She understood.
It's not that no one goes to these lengths for their dogs in San Francisco, where I've lived for almost 30 years. I once saw a man carry his dying German Shepherd to Kite Hill, near my house, so she could smell her favorite place. The dog was old and sick, but still enormous, and the man wasn't young. But he carried her slowly up the hill, sat with her quietly, and carried her down. Still, that's all I remember in three years with Sadie in San Francisco; I run into people ministering to their old dogs every single day in New York. It makes me sad, then it makes me smile.
I didn't get Sadie until my daughter went to college. I always said I just couldn't handle a dog and a child, but the truth is, I couldn't handle losing a dog again. I grew up with a Golden Retriever named Brandy, but he was mostly my mother's dog, protecting her as she battled cancer, and after she died, when I was 17, my heartbroken father gave Brandy to neighbors with a farm in northern Wisconsin. (No, I know parents lie and tell their kids they sent their dog to "a farm," but I know he told the truth, because my brother drove him there.) When I was young I resented my otherwise perfect father for that coldness to his kids; now, older than he was then, I realize how broken he had to be to be so cold. Brandy lived to be 17, a happy farm dog, but I could never have another dog after that loss.
It was only after sending my daughter off to college that I got tough enough to handle the idea. Being a parent is one letting go after another: If you do everything right, the child you built your life around leaves your home to join the wider world. I grieved, and then I got a puppy.
Then Sadie took me out into the wider world. And once I took her to New York, she planted me here. I won't trust her to an airline anymore – you had one chance, United, and you blew it -- so I drove her across country from San Francisco last spring, for the first time in my life. I slipped between time zones and watched winter fight with spring coast to coast. I was planning to drive back with her at some point during the summer. But summer came, then fall, and I wasn't ready to drive her home, not yet. Because once I drive her "home," I can't come back blithely, for a few more months. So I stay, and I stay and I stay. I just signed a one-year lease, a block away from Central Park.
Maybe it all makes sense. If I got Sadie to get me out into the wider world, the wider world is widest in New York. Not just old dogs, but old people in general aren't locked away here. In most places, once you can't drive anymore, you're a prisoner, at home, or in a home, waiting for someone to shuttle you somewhere. In New York you see frail seniors, with and without their senior dogs, on walkers or canes or walking unassisted but slowly, carrying on life as long as they possibly can.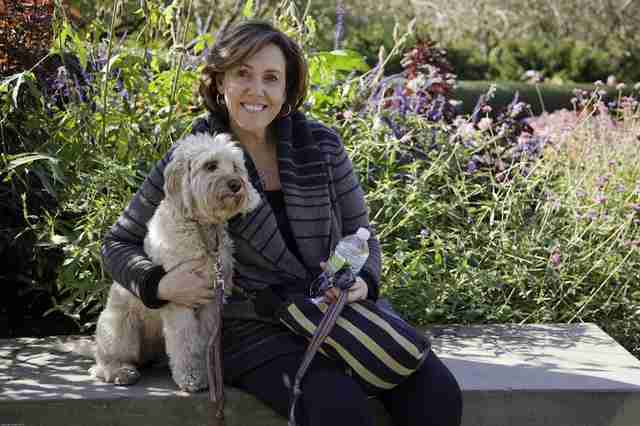 When I got Sadie, the year I turned 50, I did the math: If I'm lucky, she could live 15 years (small dogs live longer than big dogs. Supposedly. Right?). So that means I could be losing my dog as I turn 65. Great planning. But that's only if we're both lucky. One of us could lose the other at any time. When she was just a puppy, I told my daughter, "I hope I go before Sadie does," and quickly added, "I'm kidding!" She shot me one of her looks: "No, you're not. You're an asshole." And she loves me anyway. These are of course the only ways we talk about death. For now.
Our pets make us look at our mortality. Not just at the end, when -- again, only if we're lucky -- we have to make agonizing choices about whether they're suffering too much and should be allowed to leave us. But from the beginning: they force us to feel the seasons change, from perfect dog-walking weather to the kinds of days we want to hide from, except we can't, because our dogs need us to take them out. But if we let them, our dogs distract us from the pain of time passing too. Every day I practice being as in the moment as Sadie is, to see and hear and smell it all and know it's all enough.
I've now seen all four seasons in Central Park with Sadie: tulips, tourists, the dizzying color of fall and the recuperative palette of winter. At each transition there's a day when "now" turns into "then." Letting go of fall was toughest: the park was perfect, and it was coming undone at the same time, just like all of us. But now I'm loving the labradoodle in winter, sporty in a little snow jacket and boots. Sadie won't let me hang back. She keeps me on the path where it's always now.
Photos by Susan Walsh