Electrocuted Dog Shines Light On Greyhound Racing's Dark Secrets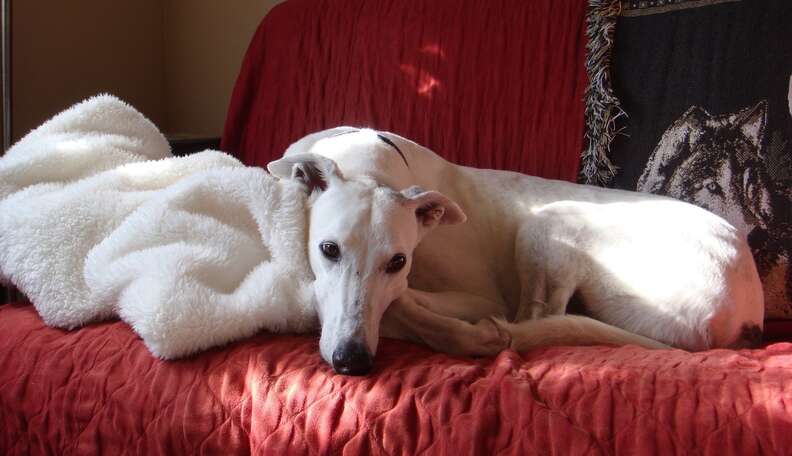 A dog at Tucson Greyhound Park in Arizona was electrocuted and died on March 7, in front of an audience, after being "bumped" into an electrified fence by another dog. The two greyhounds collided because they were chasing a lure, which was being pulled along the park's racetrack by a wire run through the very fence that caused the night's tragic spectacle. Unsurprisingly, the electrocution was caught on camera; fatefully, it caught the attention of Tucson city council member Steve Kozachik, who publicly condemned the incident and the racepark.
But the incident doesn't just shine a light on Arizona -- it spotlights an industry that, in most of the seven states where it remains legal, manages to avoid close scrutiny or heavy regulation.
Kozachik told reporters that a similar incident happened one month earlier at the same track, but that electrocution wasn't caught on tape. According to Christine Dorchak, president and general counsel for the greyhound advocacy group GREY2K USA, the unfortunate outcomes many dogs meet at Arizona racetracks often aren't reported in detail to the public -- because they don't have to be.
"It's only through flukes that people actually learn what has happened to these poor dogs," Dorchak said. She says the state's department of racing stopped releasing greyhound injury reports to the public in November 2009. When they were still reporting, she says, "nearly 1,000 greyhound injuries occurred between 2007 and 2009. There were 67 dogs that died."
Additionally, Dorchak explained, reports provided details about the types of injuries dogs sustained, where they happened, and what were the outcomes. More often than not, the most common injury -- a broken leg -- led directly to euthanasia. Dorchak believes that's still the case in Arizona, but there aren't publicly available figures to calculate how many dogs suffer bone breaks. "We know more greyhounds are dying at Tucson Greyhound Park," she said. "We just don't know how many."
The same goes for several of the other states where dog racing is still legal. According to Ann Church, vice president of state affairs at the ASPCA, the laws and regulations for dog racing are different in each of the states where it's still allowed -- Arizona, Florida, Iowa, Texas, Arkansas, Alabama and West Virginia -- and few of them mandate transparency. Florida -- the state where greyhound racing originated and where there is still the greatest number of tracks in the country -- is one exception. In the spring of 2013, a law went into effect that requires tracks to report deaths, and the results have been harrowing.
"It was revealed that one racing dog dies on average every three days," Church said. "The most common type of harm on the tracks is from broken legs, electrocution, and of course, heat exhaustion that often occurs when dogs are forced to race in extreme weather."
Greyhounds also have been found to suffer horrific treatment off the track, where they're confined in cramped kennels for the majority of the day. GREY2K USA has reported finding dogs caged for up to 20 hours per day, let out only to relieve themselves a few times and -- on occasion -- compete in a short race. The organization also conducted an investigation that found dogs muzzled in their undersized kennels because their caretakers simply chose not to take their muzzles off. Dorchak calls it "a double caging."
Dorchak also said that female dogs at Tucson Raceway Park -- which is the last remaining park in the western United States -- have routinely been injected with anabolic steroids, which Kozachik has fought to ban. "The people of South Tucson, the municipality where the park is located, voted to ban anabolic steroid injections for the dogs," Kozachik said. "I filmed racers circumventing the law by driving into Tucson proper -- which is adjacent -- and injecting the dogs there, then bringing them back to the track."
He used his footage to pass a similar ban in Tucson, which was then enacted across the county. But it didn't last long. "The racing commission came in and said the dogs' oversight was under state jurisdiction -- their jurisdiction," Kozachik said. "No doubt the dogs at Tucson Greyhound Park are still on steroids."
For Church and the ASPCA though, the issue is not just with Tucson Raceway Park or Arizona, but with each of the seven states where dog racing is still legal. "The ASPCA used to contend that the industry just needed to spend sufficient funds to correct the many problems involved with racing," Church said. "However, the economics do not seem to support that kind of fix. The industry is dying, revenue has fallen drastically, and the care the dogs receive is only going to deteriorate, not improve." As a result, she said, the organization favors an end to all dog racing.
It appears that end is in sight, as the sport's popularity has decreased dramatically in recent years; according to Matthew Bershadker, president and CEO of the ASPCA, "the entire greyhound racing industry is sinking." Some areas are moving to prevent greyhound race tracks from ever opening in the future, as Colorado did earlier this week, but in states where legislators have not yet made strides to end the practice, there are still other changes to be made. "The dogs at tracks have been chosen to be racers because they are fast and healthy young animals," Church said. "If not involved in this sport, these dogs would not be injured and killed at such high rates."