Therapy Pig Meets Abandoned Puppy And Falls In Love
They refuse to sleep without each other
When Jahaira Zamora found a 6-week-old puppy on the side of the road in 100-degree heat, she knew she couldn't just leave her there.
"She couldn't even walk properly and was a little malnourished," Zamora told The Dodo. "I knew I had to keep her and get her healthy."
Zamora was perfectly willing to take the puppy, later named Peach, home with her until she got healthy - she was just worried how her pet potbellied pig would react.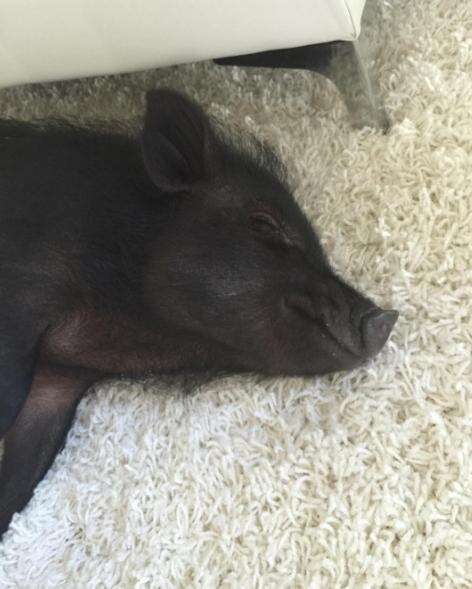 Blue is a 2-year-old therapy pig who visits sick people at their homes to bring them comfort and help them feel a little bit better.
"She shows them all of her tricks and brings them lots of joy," Zamora said. "She will hopefully also be visiting nursing homes and our local courthouse to help kids who have to go to court for hearing cases, but may be a little nervous."
Blue is a very gentle, happy pig, but she'd never lived with a puppy before, and her mom was nervous that she might not like sharing her family's attention. Blue was a little apprehensive of Peach at first, and their family didn't let them get too close to each other for the first few days.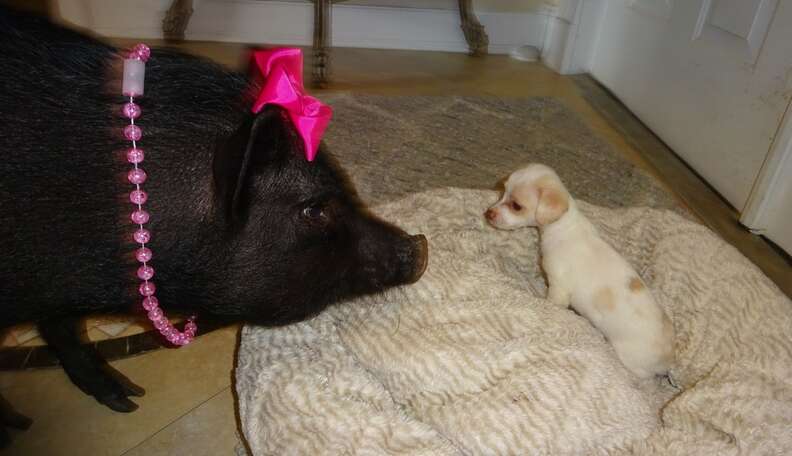 After Peach had gotten her shots and was deemed healthy enough to interact with Blue, Zamora finally introduced the two. Blue was sleeping when Peach first came into the room, and their mom was worried Blue might not like being woken up by the playful puppy.
"To our surprise, Peach laid right next to Blue and Blue rolled over on her side and they fell fast asleep," Zamora said. "Next thing I know, when I go in to check on them, Peach is sucking on Blue trying to nurse and Blue was loving it! They were inseparable from that day on and that is when I knew we had to keep Peach and give her a forever home with us."
Peach has been living with her new forever family for seven weeks now, and she and Blue are inseparable. Blue acts like Peach's mom, and always makes sure that she's happy and safe.
"They both sleep on the bed with us but occasionally they will decide to sleep together on their own bed," Zamora said. "They will not sleep separately."
Peach absolutely adores Blue, and spends all day bringing her toys and playing by her side until she falls asleep. Everyone was so nervous at first about introducing the pair, but now, they can't imagine a world where the two aren't constantly together.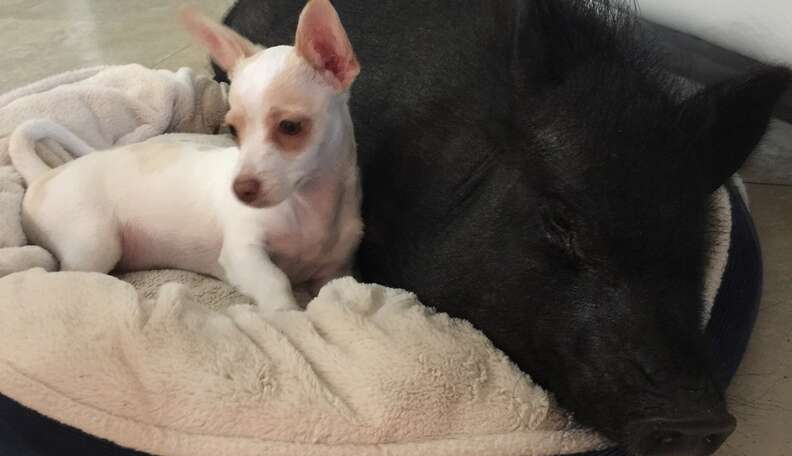 "They are definitely very attached to each other and share a special bond," Zamora said.