When two llamas in Sun City, Arizona, decided to make a run for it, the nation was enraptured by the most delightful wild llama chase ever.
Three llamas were transported to an assisted living facility on Thursday as part of an animal therapy project, according to ABC 15. When the trailer door opened, two of the llamas (one white, one black) were spooked and bolted. The Maricopa County Sheriff's Office was called to come assist in bringing the llamas back to safety (the animals escaped near busy roadways).
It was clear that those in charge of wrangling the llamas had no idea just how quick and agile the fluffy animals are. The llamas cleverly dodged and ducked numerous corralling attempts, turning the whole scenario into an entertaining hour-long race for freedom.
Today we all learned: Llamas are quick and feisty!
The darker llama was detained and escorted back to the trailer soon enough, thanks to a handy lasso.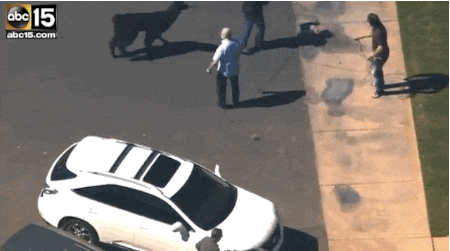 However, his lighter-colored companion was determined to continue with the epic escape, and raced for about 15 more minutes ...
... before finally being lassoed by a helper in the back of a pickup truck.
The whole ordeal soon blew up on social media, with the hashtag #LlamaWatch suddenly surging in popularity. The Arizona Cardinals even joked that they were going to recruit the speedy llamas for their team:
Lt. Brandon Jones of the Maricopa County Sheriff's Office told CNN after the ordeal: "Needless to say, [the llamas] are on their way back to the ranch ... There was no therapy."
However, many would disagree that there was no therapy today, since the whole country was exposed to some hilariously awesome llamas: