Chopper is a 5-year-old Boston terrier who works as a therapy dog, warming hearts at hospitals and schools in his hometown of San Diego. But Chopper is no longer allowed to do the work he loves because his therapy dog license was just revoked ... because of the way he's dressed.
Chopper makes his visits in full biker regalia - an outfit that includes a vest, a bandana and little biker "doggles." He even has a little Chopper-sized motorcycle. His human, Mark Shaffer, told ABC news that the costume is part of the way Chopper helps the people he visits.
"As soon as Chopper rides into someone's room on his motorcycle, the patients start to laugh and smile," Shaffer said. "Each therapy dog brings something different to the table and Chopper's whole package provides the therapy."
But Shaffer recently received a letter from Pet Partners - the organization through which Chopper volunteers as a therapy dog - saying that Chopper's license was being suspended.
According to Shaffer's Facebook page, the organization told him: "We are concerned about the clothing in which Chopper is in the community" and "We are also concerned about the perception that your team may be creating in the community with regard to therapy animals."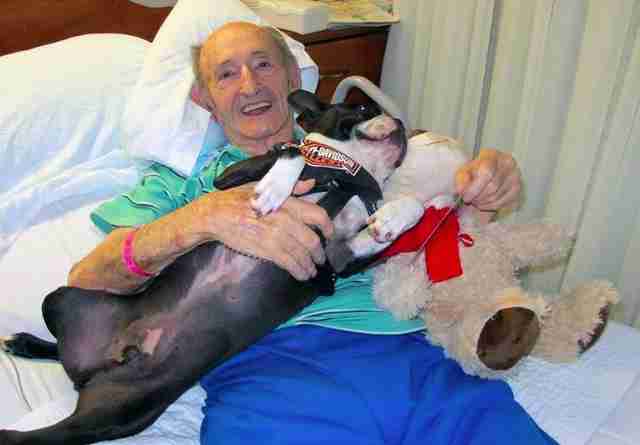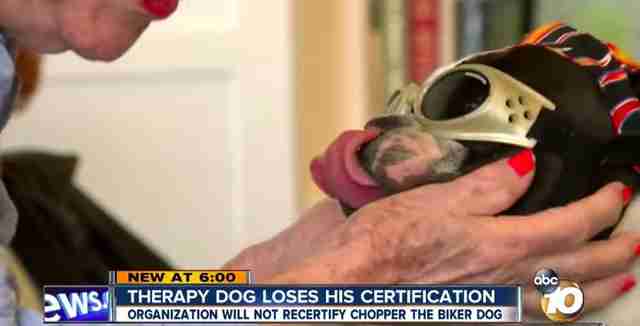 Now Shaffer is spreading the news and working hard to get Chopper reinstated as a therapy dog - biker vest and all - so the two can keep spreading the joy and smiles.