Therapy Chicken In A Tutu Is Teaching People To Love Animals
"Chickens are people too. OK not really people, but they deserve the same respect as everyone."
Two years ago, Erika Proctor and her son Finn went to a fair, where they spotted some sickly little chickens.
Proctor is founder of the Virginia-based rescue group Green Dogs Unleashed, which specializes in deaf and blind dogs. And Finn might love animals even more than she does.
Finn told Proctor he wanted to take the chickens home, even if they weren't going to survive, so they'd have known love. Three came home with them.
"Two didn't make it. Darla was a fighter," Proctor tells The Dodo.
Now Darla's a treasured member of the family.
She spends some time with her feathered friends in the chicken coop, then uses the doggie door to come inside and spend time with her favorite boy. Finn likes to read with her. They play together on the swing sets. Sometimes he even has her sit in a chair, and pretends they're playing checkers. Mostly, she likes being zipped up into his jacket.
Darla also enjoys the company of the family cat, and the other members of the household. She even sat right beside the family's deaf and blind Great Dane, Serendipity, when she recently died.
"Oh, everyone loves Darla," says Proctor.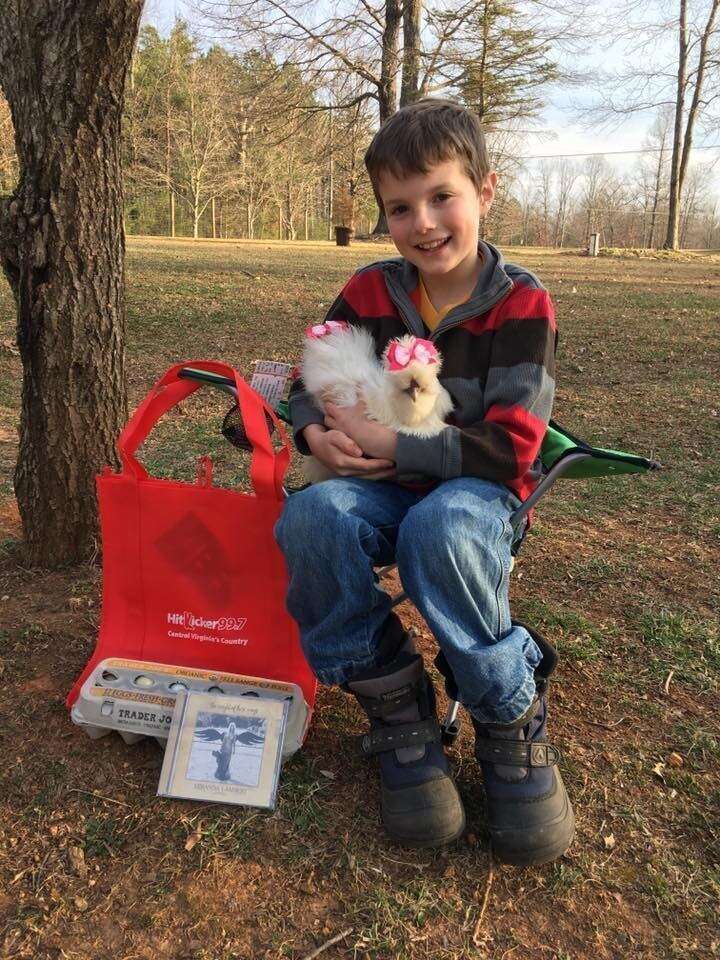 Darla is so lovable that she recently became a certified therapy chicken. If you're delightfully surprised at the thought of this, you're not alone.
"There is a bit more an element of surprise when you show up with a chicken in a tutu," says Proctor.
Green Dogs Unleashed has a therapy dog certification program, which mostly trains shelter and special needs dogs, before placing them in forever homes.
Those with the right disposition are further trained to go to hospitals, assisted living facilities, schools and other places, "to bring joy and comfort to those in need," says Proctor.
This is the first time Proctor's brought a chicken into this program.
Enough people who came to the house mentioned how struck they were by Darla's winning personality, that it "made sense," Proctor says, to give her her the training, too. So she could bring joy to more people, and help spread a message about respecting animals.
"Many people see chickens as only a source of food," she says. "Having people - children especially - get to know a chicken personally, brings a new level of education and awareness to the animals."
These days, Darla works with 4-H groups and scouts and camps. Proctor is trying to get her approved for a school therapy animal program, with "her and a goat and mini horse."
To make sure her message of compassion has its maximum effectiveness, Darla has to look her best. She is bathed and blow-dried, then dressed up in bows and dresses (and chicken diapers). A real chicken spa day, as Proctor puts it.
Finn thinks his chicken looks extra pretty all gussied up. He's pleased - he told his mom, who tells The Dodo - that her friendly ways can help more folks see that "that chickens are people too. OK not really people, but they deserve the same respect as everyone."
And Proctor thinks her son is pretty amazing, too. She marvels at him in many ways. Not least is his relationship with Darla.
"Finn has always had a special compassion for animals. Perhaps because his mom is an animal behavior specialist, perhaps because he has grown up in rescue or maybe because he was blessed with a very special heart," she says. "God, I love this kid ... How did I get this lucky?"