The World's Saddest Animal: Petition To Relocate Arturo Nears 600,000 Signatures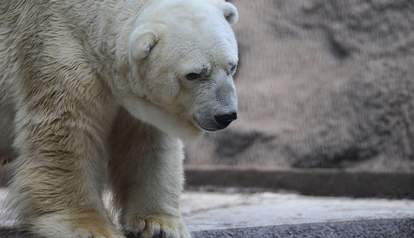 Last week, millions first learned about the miserable plight of a polar bear named Arturo, who has spent nearly all his life in a cramped, dilapidated enclosure at the Mendoza Zoo, in Argentina where temperatures can reach over 100 degrees -- earning him the distinction as the "world's saddest animal."
Following the death of his only companion two years ago, zoo officials had mostly shrugged off campaigners urging that Arturo be relocated to a more fitting home at a facility in Canada. But since the sad polar bear's story went viral, those calls are quickly becoming too loud to ignore.
A petition mounted on his behalf has since soared to nearly 600,000 signatures (out of a goal of a million), and it shows no signs of slowing.
"We plead for solidarity and sensitivity from [Argentine] President, Mrs. Cristina Fernandez de Kirchner, as well as that from Diplomats," reads the petition on Change.org.
"We ask that you exercise your authority so the polar bear Arturo, who lives in deplorable conditions in the Mendoza Zoo, is moved to Assiniboine Park Zoo in Canada, where a natural habitat and a better life is awaiting him."
Mendoza Zoo officials have stated that the polar bear is too sickly to be moved, saying that he might not survive the journey north. For Arturo's supporters, however, not trying attempting to relocate him would be an outcome worse than death.
"Arturo is in distress," Rob Laidlaw from the group Zoocheck Canada told Metro. "They say there's a risk if he is moved. But the risk is worth it. Arturo is walking dead right now."
Add your voice to the petition by clicking here.
[rebelmouse-frontpage https://www.rebelmouse.com/theunzoo/]