The World Wildlife Fund Supports SeaWorld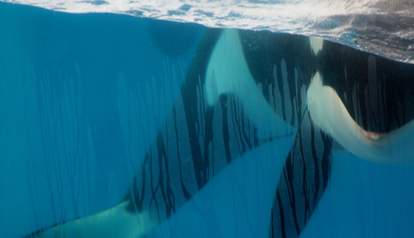 Over the last few months, we have watched as people and businesses alike have stated their position on SeaWorld. Blackfish supporters shook their heads in disappointment when Bindi Irwin announced her new role as youth ambassador to SeaWorld. Then they cheered mightily as myriads of musicians told SeaWorld to stop using their music. Recently, STA Travel said they have implemented a SeaWorld ban and will not be facilitating any more trips to any of the SeaWorld parks. And following a lawsuit, a "please avoid SeaWorld" sign is now being displayed in San Diego International Airport. Taco Bell is the latest company to receive praise for disassociating themselves from SeaWorld, while McDonald's falls under scrutiny for jumping into bed with the for-profit marine entertainment giant.
But what about the World Wildlife Fund (WWF, also known as the World Wide Fund for Nature) and their association? They have been taking money from SeaWorld for years. SeaWorld Adventure Parks (including Busch Gardens) are actually listed as one of WWF's marketing partners and SeaWorld also mention this partnership as part of their conservation work.
In 2009, the SeaWorld & Busch Gardens Conservation Fund supported WWF's Smart Gear competition, which offered a top prize of $30,000 to the best green fishing gear invention. The purpose of the competition was to reduce rates of by-catch (the entanglement of unintended species in fishing lines).
The competition was especially pushed in Scotland, home to a resident pod of orcas known as the West Coast Community. The West Coast Community consists of only nine individuals and it is likely this small population is en route to extinction. They have not been sighted with a calf in over two decades, pollution being one of their main conservation threats. At present, neither SeaWorld nor WWF are making any attempts to educate the public about this unique population or to highlight their plight.
In fact, WWF doesn't even list orcas as part of the dolphin and porpoise family on their dolphin and porpoise species webpage, despite these apex ocean predators being the largest species of dolphin in existence.
In 2010, WWF was one of four charities selected to participate in the SeaWorld Cares ticket promotion. Any single-day full-price adult ticket for any of the SeaWorld parks purchased with a child's ticket resulted in a $5 donation to WWF and their conservation efforts combating climate change in the Arctic. WWF write about the promotion in their Focus newsletter (dated Nov/Dec 2010), "...more than $150,000 has been pledged to WWF to help fund our efforts in the Arctic, from working to combat climate change to protecting the polar bear and other Arctic species. For more information, visit seaworldcares.com."
Again, despite the fact that several different populations of orcas inhabit Arctic waters, WWF fail to note them on their website as a species present in the Arctic. With no mention of orcas as part of their conservation work, it seems a little odd that they offer one up for adoption as a way of raising money.
So what is the problem here? Surely WWF's partnership with SeaWorld is great if it means that WWF can continue their work to protect and conserve nature. According to WWF, they are all about "respecting and valuing the natural world and finding ways to share the Earth's resources fairly." However, somewhere along the line, they have decided it is okay to compromise their ethical stance by not respecting or valuing captive whales, dolphins and porpoises. The money WWF takes from SeaWorld is made off the backs of these exploited mammals who are forced to perform tricks for human entertainment.
It's as if WWF is happy to turn a blind-eye to the suffering of individuals in order to achieve their greater goal.
WWF works in over 100 countries and has almost five million members globally. What do their supporters think about the issue of whale, dolphin and porpoise captivity? And what are WWF doing to address growing public concern for the welfare of these large, sentient creatures in captivity? Perhaps they will let us know...