Admit it: Save Your Ass (SYA) might be one of the greatest names in the history of animal rescues. In fact, Save Your Ass is New England's only donkey rescue - based in South Acworth, N.H.
SYA's founder, Ann Firestone, who started the organization in 2007, says she's adopted some 250 donkeys since she founded the rescue facility. "I've always been an animal lover," she says. "I helped my dad raise orphan wildlife." As an adult, she decided to get a donkey.
(Photo: Save Your Ass)
And she was hooked: "When I got it, it was all over for me." SYA currently is caring for 14 donkeys, with a waiting list for more. Most people "surrender" their donkeys to Firestone because of financial distress. "The main reasons people give their donkeys up is lack of money. And then a change in lifestyle, like a divorce or a move or a death." This time of year, she says, is especially grim. "People can't afford to feed their animals. And this is the time of year when that becomes especially apparent. In the winter, people need to buy donkeys hay - they can't just let the animals go out to pasture."
In fact, when The Dodo called Firestone for an interview, someone had just surrendered two donkeys - named Inca and Scout. "If they come from a crappy situations, I'll change their names," says Firestone. "If they were well-loved family pets, I do not." Donkeys come in three sizes: 36" and smaller from the shoulders is a miniature, 56" and smaller is standard and any donkey over 56" is a mammoth. What's one of the biggest misnomers of donkeys? "That they are stubborn," answers Firestone. "They are actually a bit more like a dog than a horse. Their temperament is different than a horse, too. They aren't as reactive and that is where their reputation as being stubborn comes in." For example, she explains, when a horse is startled, it bolts. "But when a donkey is startled - or senses something is unsafe - it stops."
(Photo: Save Your Ass)
"Donkeys are so smart." And, Firestone adds, "They are very, very affectionate."
Most of the donkeys are adopted out in New England, but some have been sent to families in West Virginia, North Carolina and Texas. Firestone only adopts donkeys out in pairs because of their emotional attachments: "Donkeys are very attached to their buddies. It is really important that they are adopted out with their friends."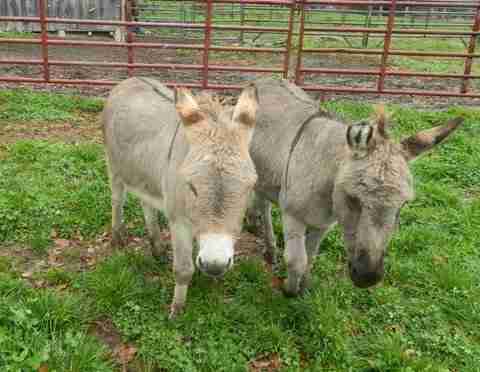 Firestone says she's learned to adopt out not only based on economic status, but instinct. She adopted two donkeys to a couple in Vermont a few years ago, and said although the couple seemed good on paper, something was nagging at her: "I kept telling my husband that I didn't like the people. He told me: 'It's not who you like, it's if they will be good to the donkey.'" She gave the donkeys to the couple. Then about six months later she was driving in Vermont and realized she was in the town where the donkeys were living. So, she decided to drop by. She was horrified by what she saw: "Those people had never even taken the original halters off. There was bare skin under the halters. It was snowing and sleeting. No one was home. The donkeys were just outside and had no shelter." Firestone left a note telling the people she would be coming back to take the donkeys from them and four hours later she was back with her trailer. "I told myself I would always listen to my gut after that."
Every donkey who now comes into Save Your Ass gets a little chat from Firestone upon arrival: "I tell them: 'That was then, this is now...[I say] Your life is going to be good from here on in. No pain, no suffering.'"