The Travel Industry Is Turning On Irresponsible Animal Tourism -- One Boycott At A Time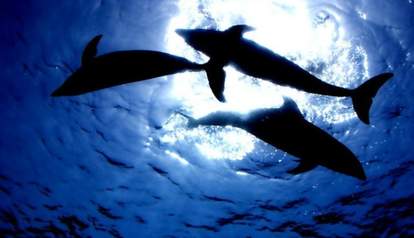 The travel industry is beginning to turn on tourism trips that exploit animals, and it looks like dolphin shows will be the next thing to go. Several travel bloggers, who argue that dolphinariums and for-profit marine parks are inhumane and should be a relic of the past, are leading the pushback against these attractions with the help of a 2,000-strong petition.
They're taking aim at an upcoming gathering called TBEX 2014, billed as "the world's largest gathering of travel bloggers, writers, and new media content creators." While at the September event, guests can sign up for two tours at a dolphinarium in Cancun.
Travel writer Matthew Kepnes of the blog nomadicmatt.com is an outspoken critic.
"There are certain things that are right and wrong and they [the organizers] should be on the side where things are going, which is away from dolphin tours as more countries and tour operators ban the practice," he tells the Guardian.
This is the latest instance of tourism taking a stand against marine captivity. In a landmark move last week, Southwest Airlines canceled its two-decade-long business partnership with SeaWorld in the wake of backlash against the company. Earlier this year, business magnate Richard Branson announced that Virgin would stop doing business with organizations that capture wild cetaceans.
And earlier this week, the site Responsibletravel.com launched the world's first elephant tourism guide, including a searchable database of alternatives to zoos and harmful elephant ride attractions. This was after several tourism companies stopped providing elephant trekking tours to tourists in Thailand, citing the industry's terrible record with animal welfare.
Now, the travel writers' battle to boycott dolphin shows has just begun -- and they're already facing resistance.
TBEX says that it doesn't want to cancel the dolphin tours.
"We won't be bullied into canceling a tour by a small pressure group," TBEX co-founder Rick Calvert tells The Guardian. "TBEX is not a public event, it's a business-to-business event for the industry and travel media. We don't pick the tours, select them or promote them and we're not saying these tours are good, or these companies are good. We're saying if you want to go, you can, and report on it, whatever you see."
But as Kepnes points out, the tide is turning toward responsible tourism. In the Change.org petition on the issue, he writes:
As travel writers, it is our job to promote responsible tourism - tourism that leaves the earth and cultures we write about the way we found them so they are their for future generations.