(Photo by Fernando Valenzuela)
[The following is an excerpt of Dave Goulson's "A Sting In the Tale," (Picador), which will be published in the U.S. on Tuesday.]
Since moving to the University of Stirling I have taken to running up a local hill, named Dumyat (pronounced Dum-i-at), every Wednesday at lunchtime. The university campus is lovely, the ugly 1970s buildings hidden amongst trees around a beautiful loch. Just to the south-east rises a steep volcanic plug clothed in woodland, on which has been built the dramatic Gothic tower of the Wallace Monument. The Ochil Hills rise directly from the northeast end of the campus, and form a sharp escarpment running eastwards into Fife, marking the edge of the central Lowlands and the beginning of the Highlands beyond. Dumyat is the westernmost of the Ochils, rising only 400 metres or so, but with spectacular views into the Highlands to the north, to Edinburgh in the east and to Ben Lomond in the west.
I moved to Stirling in 2006, and in the late summer of that year I noticed something a little odd at the top of Dumyat. I was gasping to regain my breath, slumped against the cairn that marks the summit, when I noticed several bumblebees buzzing about. Closer inspection revealed that they were male white-tails. They were not feeding on flowers – indeed, there are no flowers anywhere near the top of Dumyat, just rocks and sheep-cropped grass. It is a fairly bleak and windswept spot – the bees were being buffeted about, but were stubbornly flying into the wind to maintain their position, whilst zigzagging around as if looking for something.
Common bumblebee A week or two later I took my family for a walk up to the base of the Wallace Monument, a short but steep climb through the woods, which emerges into a grassy clearing at the top. There were a few flowers about, mostly creeping thistles, and they were covered in male forest cuckoo bumblebees, sometimes two or three to a flower. I was intrigued as to what these gangs of male bees were doing hanging around at the tops of hills. I enlisted the help of two Stirling undergraduates, Jill Young and Liz Sangster, persuading them that they should spend their summer walking up and down a range of Scottish hills while counting the numbers of male and female bumblebees, to see if this was a general phenomenon. They duly did so, and it seems that it is – every hill they climbed had unusual numbers of males at the top, and comparatively few on the slopes and at the bottom.
The explanation is most likely that they are engaging in a behavior appropriately known as "hilltopping," something which has been studied in detail by John Alcock of Arizona State University, now retired but one of the world's experts on insect mating behavior. He has devoted his life to unravelling the mysteries of how insects find and choose their mates, doing much of his work in the exciting-sounding but presumably rather inhospitable Sonoran Desert. One recurring theme of his work is that males of many species, including such evocatively named beasts as the great purple hairstreak, the pipevine swallowtail and the tarantula-hawk wasp, aggregate on hilltops where they await the arrival of females.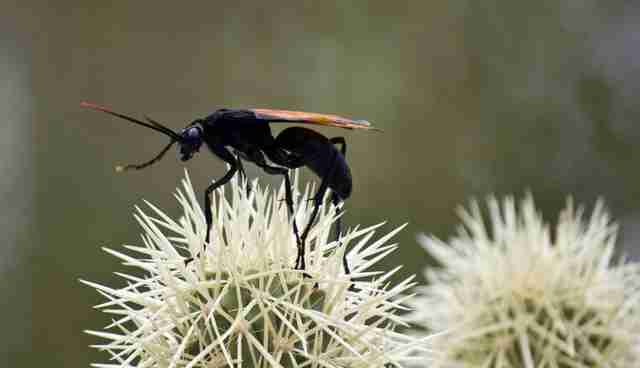 Tarantula Hawk Wasp (via Ken Bosma)
Often the males become territorial, choosing a particular perch and vigorously chasing away other males who encroach on their space. Competition for perches at the very top of the hill, which seems to be the prime location, can be fierce. Females of most insects need to mate only once or perhaps a few times in their life, while males try to mate as many times as they can. In hilltopping species, females that wish to find a mate simply head uphill, confident that when they get to the top there will be plenty of amorous suitors awaiting them. This also provides them with an opportunity to be choosy; they can quickly survey and compare a large number of males, and offer themselves to whichever one of them has the most desirable characteristics. Or, if they are in a hurry, they might simply mate with the male right at the top, on the assumption that he must be the fittest and strongest since he has managed to acquire and hang on to the best spot. With luck their sons will inherit these characteristics too, and will themselves become king of the hill. Once mated, the females quickly depart, usually to lay their eggs, perhaps returning to find a second mate a few days later when they have depleted their sperm stores.
In bumblebees, the males do not appear to be territorial when gathered on hilltops. They simply hang around, often in amicable groups, drinking nectar when it is available, and presumably attempting to mate with females whenever they appear. The parallels with human behavior are irresistible, particularly since male bees do little or no work in the nest, leaving all of that to the females. Hilltops seemingly represent the bumblebee equivalent of a nightclub or singles bar, somewhere to check out and chat up members of the opposite sex.
Unfortunately there is a rather crucial aspect in which the analogy falls down. To my knowledge, no virgin queen bumblebees have ever been observed heading for the high ground. Indeed, this is a recurring theme in studies of bumblebee mating behavior. Prior to Jill and Liz's work on hilltopping, many other odd behaviors have been described in male bumblebees and interpreted as mechanisms for locating a mate, but virtually none of them has ever been observed to succeed. Actual mating in bumblebees is seldom observed, and usually only once copulation has already started – the process of successful courtship is almost never seen in the wild. In fact, most bumblebee males never do mate. For reasons we do not yet understand, bumblebee nests seem to produce many more males than new queens; on average about seven males for every queen. Since queens generally mate only once in their entire lives, this means that six out of seven males will never manage to mate.
As it is their sole function in life, I find this rather sad.
The most intriguing supposed mate-location behavior used by bumblebees is often called "patrolling." Charles Darwin was deeply interested in this, and employed his many children as convenient and cheap labour to help him study patrolling bumblebees in his garden in Kent. He had noticed streams of male garden bumblebees passing along the hedges and ditches, generally all heading in the same direction and passing by every few seconds.
"I could only follow them [the male bees] along this ditch by making several of my children crawl in, and lie on their tummies, but in this way I was able to track the bees for about twenty-five yards."
I guess the children should have counted themselves lucky that he didn't send them up to sweep out the chimneys too. Darwin noted that the bees would pause every few yards at what he described as buzzing places, before continuing along their route. To make it easier to see the bees as they flew, he equipped his children with sugar-sprinklers filled with flour, with which they sprinkled the bees as they passed, giving them a ghostly white appearance.
"The routes remain the same for a considerable time, and the buzzing places are fixed within an inch. I was able to prove this by stationing five or six of my children each close to a buzzing place, and telling the one farthest away to shout out 'here is a bee' as soon as one was buzzing around. The others followed this up, so that the same cry of 'here is a bee' was passed on from child to child without interruption until the bees reached the buzzing place where I myself was standing."
["The Birds and the Bees" excerpt from "A Sting in the Tale" by Dave Goulson. "A Sting in the Tale." Copyright © 2013 by Dave Goulson. Originally published in Great Britain by Jonathan Cape, a division of Random House Group Limited. First published in the United States by Picador. All rights reserved.]