The New York Pigeon: disregarded, reviled, tenacious. So pervasive, they have become almost invisible. Pigeons have lived in our metropolis since the 1600's, imported as livestock by European colonists. Columba livia have been present alongside humans for over 5,000 years.
Beginning with the ancient Mesopotamians and later Egyptians, pigeons and man have had a strong symbiotic bond. As natural foragers, they could go out on their own and find food. Their uncanny homing abilities brought them home to the pigeon houses man built for them. In return for shelter, they provided a plentiful food source for humans, as well as valuable guano, which was the most effective natural fertilizer man had known. Today, with few natural predators and plentiful food scraps, pigeons continue to thrive in cities.
Andrew Garn has been documenting these feathered urban dwellers since 2008 and has amassed an archive of over 8,000 images. The close-up portraits ennoble; they reveal the individuality, personalities, and inner beauty of this common bird. Photographs of the pigeon developmental process, including one-hour-old hatchlings, peepers, and fledglings, give insight to a mostly secret world. High speed electronic flash of pigeon flight illustrates the incredible and graceful maneuverability of our avian neighbors. These dye-sublimation prints on aluminum are sized from 16 x 20" to 30 x 40".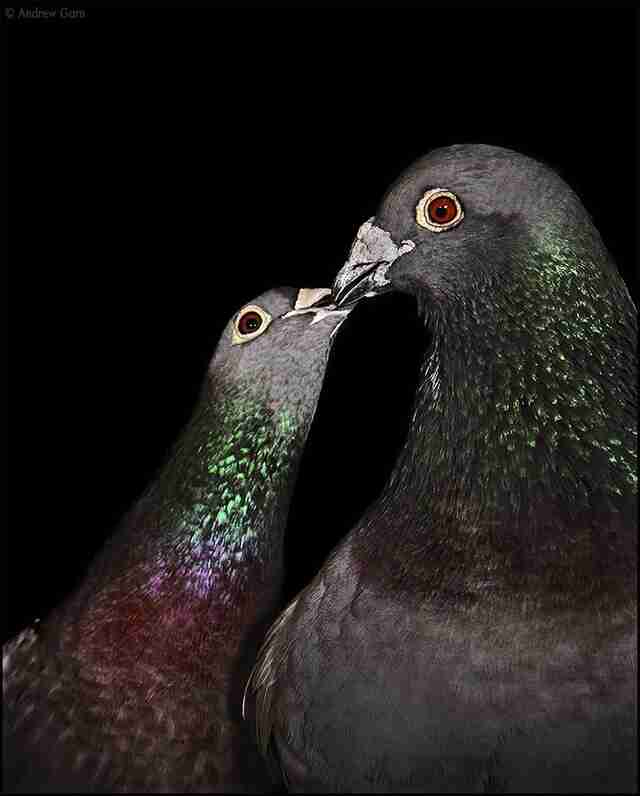 Andrew Garn is a fine art and editorial photographer whose clients include: The New York Times Magazine, New York Magazine, Fortune, Interview, French Photo, Der Spiegel, Stern, and many other publications. He is the author of six books including Bethlehem Steel, Subway Style: History of NYC Subway Architecture, Exit to Tomorrow (2007) andHouseboats (2005), both published by Rizzoli. He has won numerous awards, residencies, and fellowships and was most recently a Fulbright Scholar photographing Soviet-era architecture throughout the Ural region of Siberia. He also occasionally volunteers at the Wild Bird Fund, bathing and rehabilitating injured pigeons.
O.K. Harris Gallery, 383 West Broadway in New York, presents an exhibition of The New York Pigeon, photographs by Andrew Garn, from January 25- March 1, 2014. The artist and the gallery will be donating to the Wild Bird Fund twenty percent of all sales of Andrew Garn's photography.