This is my baby, Neo. And what you're about to read is the story behind this photo.
On August 11, 2011, my sister (Taylor), boyfriend (Clayton) and I went for a bike ride. My parents had just given me a brand new bike for my upcoming birthday, so I was really anxious to get out and about. It had been storming hard for 3 days. Right when the rain let up, we went out.
It was dark when we left the house. Summers are unbearably hot in Arkansas, especially in August. The low temperatures at night are refreshing, especially after days of rain.
We rode all over town for hours and hours. At one point, we made a turn toward Subway to grab a sandwich. It led us off the bike trail into the streets over by the hospital, many miles from our house. At 11:00 PM, every decent restaurant was closed. From afar, we could see the darkness of the shopping center. Everything on that side of town was closed. We kept riding.
Out of nowhere, an alert went off in my head. I heard the faint cries of an animal in distress. I immediately dropped my bike in the street (oops) and began looking. As I got closer, the cries turned to yowls. I spotted him. He was a tiny, bony, beat up kitten. He couldn't have been more than 8 weeks old.
He saw me and darted inside a nearby bush. I walked up to him slowly and, in my best mommy voice, began talking to him. I told him he was going to be okay, and I was going to feed him and give him a home.
I swear he understood me, because it didn't take long for him to come out and let me touch him. Yowling the entire time, he got closer and closer. He believed I was going to help him. He had no other choice.
Clayton made his way over with my bike. He sat down next to me. A grasshopper landed on the pavement next to us. The kitten's eyes widened, and he pounced on it, eating it in a heartbeat. I started to cry.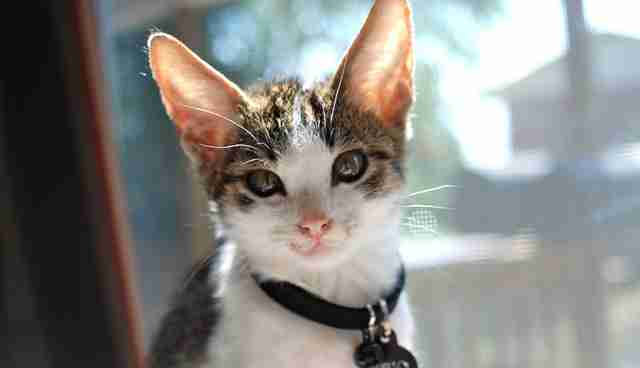 I sent Taylor on a mission to go get her car across town at our house. Not skipping a beat, she took off and rode as fast as she could towards home. Clayton stayed with us.
The kitten yowled the entire time. When he saw another cat approaching, he took off toward it. I can only guess that he wanted companionship, but the older cat hissed and swatted at him, then ran away. It broke my heart. The kitten came back over to us after I pleaded with him.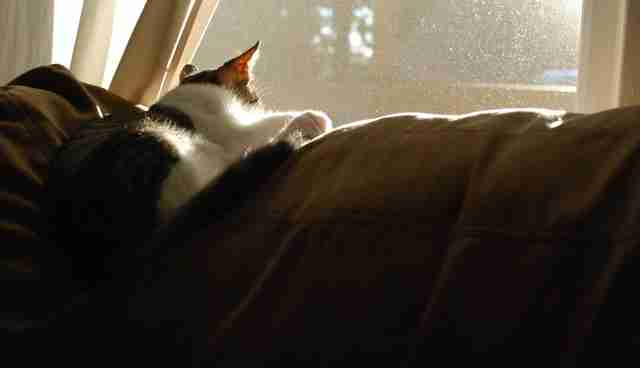 Taylor pulled up in record time. We loaded the bike rack and headed to Walmart. I stayed in the car while the other two ran inside for food, litter, and anything else they thought we needed. The kitten climbed all over the car, crying. He hadn't stopped since I first heard him. It hurt my heart with every single yowl.
Clayton and Taylor returned quickly with all the kitty things we needed. The food bag was opened and poured in a split second. The kitten started chowing down. He ate for quite some time. Who could blame him? He was literally starving to death.
After he ate, he fell sound asleep. We took him home, cleaned out his giant ears and snuggled him up in a fuzzy blanket. He slept for FIVE DAYS, only getting up for a drink of water and a bite to eat.
During those five days, we moved him from room to room with us. We set him up on the couch when we watched TV. We set him up on our office desk when we were at our computers. We laid him in bed when we went to sleep. And I took photos of the sleeping kitten the whole time.
On the sixth day, he woke up. This photo is his first look at us after everything that happened. His first look at his parents, the ones who rescued him from death. His first smirk at his new life, his fresh start. It was only appropriate to name him Neo. Everything was new to him and us.
Neo is such a sweetheart. He loves his life with us. He loves his big sister, Mia the labrador, and his little brother, Boo the black cat.
I'm not sure what goes on inside his head, but I'm pretty sure every now and then, he remembers his story. He is the definition of grateful.
I can only hope and pray for a time when adoption and rescue are the only two options. There are too many animals out there without food and shelter. Why not save a life instead of purchasing one?