The Ecological Footprint of Wolves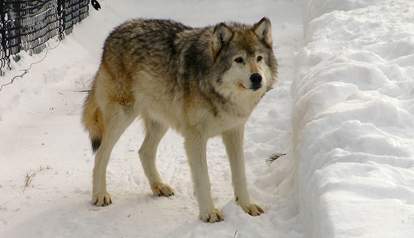 <p>Dennis Matheson / <a href="https://www.flickr.com/photos/dennis_matheson/4332272919/" target="_blank">Flickr</a> (<a href="https://creativecommons.org/licenses/by-sa/2.0/" target="_blank">CC BY-SA 2.0</a>)</p>
Since 2001, Bob Beschta has observed firsthand how aspen, cottonwoods, willows, and berry-producing shrubs have begun to recover with the return of wolves to Yellowstone twenty years ago. Scientific research has left no doubt in his mind about the beneficial - really, ecosystem-saving - presence of wolves.
So Mary and I jumped at the chance to assist this professor emeritus at Oregon State University in his field work related to plants, elk, and wolves. His scientific wandering takes him well off trail in areas of Yellowstone where grizzlies travel. Adding two people, even if they aren't scientists, to his group of one makes sense.
As we walk away from the trailhead and toward the distant hills where we will spend the day working, Beschta points with his hiking pole to some healthy willows and aspen growing along Glen Creek. If wolves were still absent from Yellowstone, he says, those aspen and willow would have been eaten down to the nubs by elk who could dine there for as long as they pleased. But facing wolves, or the threat of wolves, elk have changed where and how they eat.
Beschta suggests that we should call Yellowstone's trees "wolf aspen" because without the return of wolves ...
Click here to continue reading.
Rick Lamplugh is a wolf advocate and author of the Amazon Bestseller "In the Temple of Wolves: A Winter's Immersion in Wild Yellowstone." Available as eBook or paperback. Or as a signed copy from the author.