The Cuddliest Solution Ever To The Nightmare Of Holiday Airport Travel
Few things are more stressful than holiday travel. Wait, let me amend that: Few things are more stressful than holiday travel that involves the airport.
The very worst parts of us emerge when faced with luggage drama, unexpected fees, delays, crowds, and endless security lines.
In an effort to try to relieve some of that stress, San Francisco International Airport has introduced an army of furry pals to provide much-needed therapy to passengers.
This might just be the best way to beat airport stress. (FlySFO)
Meet the Wag Brigade, a jaunty group of 14 dogs and their handlers who patrol the airport seeking out hugs, petting, and kisses from frazzled travelers. Customers are encouraged by the big "Pet Me" sign on the vest to cuddle the animals.
"Since we're building up to the Thanksgiving holiday, we asked as many of the Wag Brigade members as possible to come to the airport," explained Christopher Birch, the director of guest experience at the airport. "You can tell by the look on people's faces that it is a nice distraction. It's a nice couple of minutes of really great feeling."
SFO launched the program last year. The San Francisco Society for the Prevention of Cruelty to Animals (SPCA) is responsible for choosing the animals, which are certified through their Animal Assisted Therapy (AAT) program to roam the terminals.
There is Poquito, also known as Poco. He was rescued from Mexico and gets excited when his handler tells him they are going to SFO to "work."
A crowd favorite is Jennings (named for journalist Peter Jennings, of course). Jennings is a handsome and happy golden retriever who flirts with all the passengers.
If you're worried about missing the Wag Brigade, hop on Twitter. That's how we found them.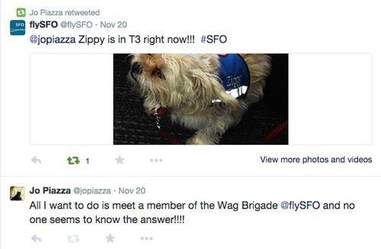 On our recent visit to SFO, right in the midst of all the holiday drama, we met Zippy, a shih tzu–mix rescue who gives high fives and rolls over on command as soon as she sees her treats package. Her handler, Mary King, believes that she gets a more enthusiastic reception from adults than from the children in the airport.
"It seems like it should be kids, but it is the adults who get so happy," King said. "They're either bored or it isn't their favorite trip, so they all want to see the dog, including the pilots."
Let Yahoo Travel inspire you every day. Hang out with us on Facebook, Twitter, and Pinterest.