A couple of weeks ago, PETA activists came to leaflet on our campus at Penn State. We spent hours publicizing a talk PETA president Ingrid Newkirk was presenting on "Animal Rights, Human Obligations." In our downtime, we shared stories about our favorite vegan fast food. And they mentioned Taco Bell being their favorite. They filled me in on the new lingo to order at Taco Bell -- just order their seven-layer burrito (remove the sour cream and cheese) and add potatoes and pico de gallo and voila, vegan awesomeness.
But it wasn't so awesome when I recently found out that Taco Bell is partnering with SeaWorld to offer discounts through online and in store promotions at some locations. So I started a Change.org petition and am on a hiatus from Taco Bell until they agree to stop partnering with SeaWorld -- a corporation that lies about the treatment of their animals in captivity.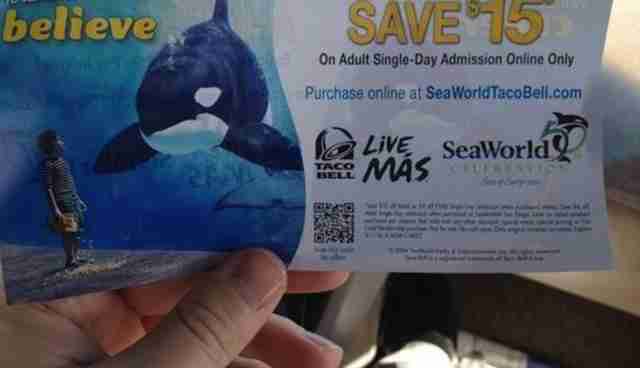 The increased media attention to SeaWorld came after the creation of the documentary Blackfish. The Dodo provided lots of coverage on the deceit behind the SeaWorld campaign including separating mother orcas from their calf, falsifying advertisements, and manipulating opinion polls. Let's face it -- SeaWorld is pretty desperate its attempt to gain back public support by grave measures.
Ingrid Newkirk gave a talk on our campus about speaking out on small issues to help animals and to "never be silent." And after talking with friends, they encouraged me to start a campaign letter to express my concerns about SeaWorld to Taco Bell. So I'm using my own voice to speak out for change on behalf of the dolphins and orcas in by calling out Taco Bell for wading into the mess of animal suffering known as SeaWorld.
With over 10,000 signatures on my Change.org petition called Why is Taco Bell Supporting SeaWorld Animal Abuse? it is evident that people care and are shifting their fast-food choices. Until Taco Bell severs ties with SeaWorld, I'm taking my fast-food business elsewhere and know many college students will be doing the same. I'll be ordering the vegan sofrita at Chipotle and making my own Daiya vegan burritos at home.
The truth is, it doesn't matter if you are vegan or vegetarian when it comes to the orcas being abused at SeaWorld. Most people agree what's happening to orcas like Tilikum is cruelty to animals. Also, it doesn't matter what you think of PETA and how they inspired me to not be silent when it comes to animals rights. The fact is animals are suffering for SeaWorld right now, and as consumers we can do something to help them no matter where we live in the world.
Will you join me in asking Taco Bell to end their promotion of SeaWorld?
In addition to signing my Change.org petition, please also consider these steps:
Tweet @TacoBell and ask why they support SeaWorld's orca abuse.
Post a Facebook message on Taco Bell's page telling them they should watch Blackfish and stop promoting SeaWorld.
Call Taco Bell's corporate office during normal business hours and politely ask that they stop working with SeaWorld. (949) 863-4500