The Cat Who Showed Up At My Home One Day And Never Left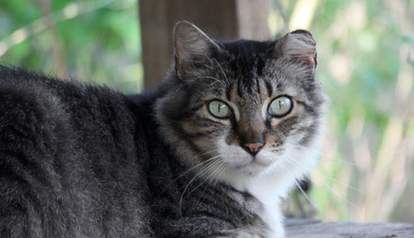 We recently bid a sad farewell to Prairie, who was a charming and handsome fixture in our feral cat yard for years. He developed a lesion in his brain that eventually made it impossible for him to feed and care for himself.
Like almost all of the feral cats we care for, we don't know his history or background. He simply showed up on the property one day about 10 years ago, a large intact male who was completely untrusting of people. He was trapped, sterilized, and then introduced to the other feral cats in our outdoor enclosure where he slowly came to trust us - at least at feeding time.
Prairie could often be seen at rest, like royalty on top of one of the loafing decks. His bright eyes followed our every movement. When he became ill and started having trouble moving, we brought him inside where we could provide better care for his condition. He didn't immediately approve but eventually adjusted to our more frequent handling, though he always seemed to have a wary, distrustful cast to his eyes.
As his condition worsened and the medications seemed to have less and less effect, staff member Katie Conway went above and beyond by working through several iterations of a cart that Prairie could use to move around. He and Katie tried their best, and there were some successes - but, in the end, the disease was too much and we let him spend his last days with Lovergirl, a friendly female he knew from his days in the colony. Away from humans and with a familiar friend, Prairie seemed to relax. He spent his last days outside in the shade until the time arrived for us to set him "free."
Every animal lives a life important to him or her and is deserving of our compassion and respect. We're honored to have had the privilege to call Prairie "family."
In 2012, we established Prairie's Fund to help us feed and care for the dozens of feral cats people have dropped off (uninvited!) at the Born Free USA Primate Sanctuary property over the years at www.bornfreeusa.org/prairiesfund.
When Born Free USA acquired the sanctuary property in 2007, we sterilized all of the feral cats on the property and built a large, safe enclosure for them. It now encompasses approximately a quarter-acre that is filled with vegetation for play, as well as shelters for privacy and protection from inclement weather - all of which requires ongoing maintenance and repairs.
Please consider a donation to Prairie's Fund to help us provide daily food, water, enrichment, and medical care as needed to these deserving cats.
Every time I see a feral cat whose life is better because of our efforts, I will think of Prairie. His memory will always be a part of the sanctuary - and, through Prairie's Fund, you can help ensure that the same level of care that Prairie received will be enjoyed by the other feral cats who call the Born Free USA Primate Sanctuary their home.