America Steps Up To Protect The Long-Legged — And Rare — Canada Lynx
<p>Flickr:<a class="checked-link" href="https://www.flickr.com/photos/keithmwilliams/4465380932/sizes/m/" style="text-decoration: none;">Keith Williams</a> CC BY-SA 2.0</p>
A full-grown Canada lynx is two dozen pounds of furred muscle, razor claws and ears with little tufts - not your average tabby, in other words.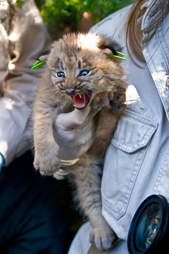 Don't call this young Canada lynx a "kitty-cat." (Flickr: U. S. Fish and Wildlife Service - Northeast Region CC BY-SA 2.0)
(Flickr: Jeremiah John McBride CC BY-SA 2.0)
The protected habitat was born out of five years of court challenges between snowmobile associations and conservation groups. Although most of the conservationists are pleased that parts of the lynxes' range will be protected from activities that cause "destruction or adverse modification of critical habitat," such as forging new snowmobile trails, some point out that a key part of the lynx habitat will not be protected.
"The high-quality lynx habitat in the Kettle River Range deserves federal protections," says Dave Werntz, Conservation Northwest's science and conservation director. "Lynx were once abundant in northeast Washington but have not recovered from historic over-trapping, breaking the link in the network of lynx populations deemed essential for recovery."
(Flickr: Jeremiah John McBride CC BY-SA 2.0)