Winter break loomed ahead of me, and the stress of work and school remained firmly on my shoulders. All the healthy eating habits I had carefully crafted over the past two years had gone out the window. I relapsed back into restrictive anorexia. My weight dropped 10 to15 pounds, and my exercise regime was at an all time high of two to three hours a day. Every step I took I could feel the cartilage grind into my hip joints.
As I struggled with the day to day problems, I thought about times I had felt happy over the past 13 years of this battle. The hours spent riding my horse came immediately to mind. She never cared about my weight. My obsession with perfection in life was not an issue for her. I was allowed to have problems and cry to her about them.
It was time to reintroduce unconditional love back into my life in the form of a puppy.
Her soft, gentle eyes drew me instantly to her. All black, German Shepherd, 10 little white hairs sticking out her chest, Jezebel's little roly-poly body played with a plastic water bottle while I signed the paperwork.
Pets are one of the greatest examples of vulnerability. In most cases, they will die before their masters, yet dog owners fall in love with their dogs and have a deep sense of protectiveness for their canines.
Taking care of Jezebel became the way I learned how to take care of myself. Everyday she had to eat three meals. Everyday we sat down together and ate our meals. I learned patience with her, which turned into patience with myself. For all the times it seemed as though she and I were not moving forward in training, in eating, in housebreaking, and in exercising, there came occasional breakthroughs for the two of us that showed the light at the end.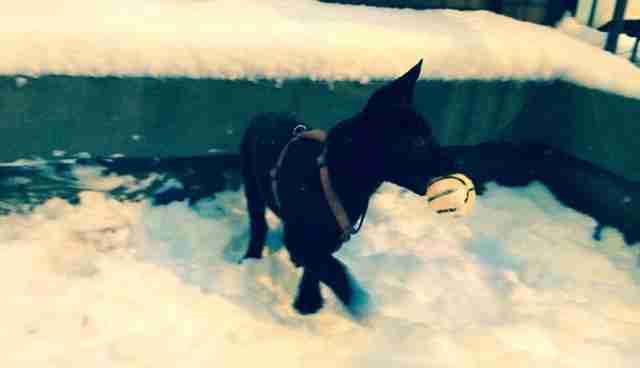 Animals are often used for Emotional Support Therapy because of their gentleness, love, and sweetness. There is a sense of normalcy and responsibility in animals which helps people suffering from cancer, depression, and eating disorders.
Several times a week I sit in my therapist's office and we discuss everything. Every week she comments about how having a puppy has upped my chances for recovering fully.
We mess up, Jezebel and I. But every morning she dives for her food and I sit down to my bowl of Cheerios. Together.
Recovery takes a long time. Luckily, so does training a puppy.