I am currently working as a field researcher for Colobus Conservation in Diani Beach, Kenya. I spend most of my time following the Angolan black and white colobus monkeys around, so I thought I would introduce them to you in more detail.
The Angolan black and white colobus monkey (Colobus angolensis ssp palliates) is found in the southeastern part of Kenya and Northern Tanzania coastal forests. The monkeys previously lived along the entire coast -- due to deforestation, hunting and other threats, however, there are only between 2,000 to 5,000 colobus monkeys in Kenya. But the numbers in the Diani region are stable: During the last census there were 399 individuals counted, a slight decrease from the previous year, but within normal annual fluctuations -- not yet a major concern.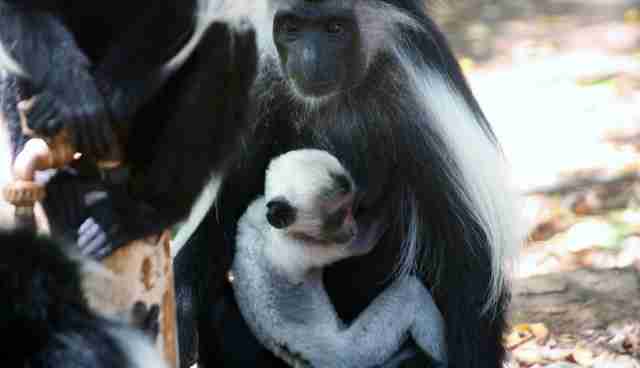 Colobus monkeys have black hair with white bands across their brows, cheeks and throats. They also have long-haired white patches, called epaulettes, streaming from their shoulders. Colobus babies are born white and then turn grey and black at three months old. All colobus species are active during the day and sleep at night. They're well-adapted to spending their entire lives in the trees -- they have flattened nails, pads on their buttocks and their hind legs are longer than their fore limbs. Elongated limbs and light-weight bones make it easy for them to leap from tree to tree.
Unusually for monkeys, they don't have thumbs (but they still have opposable big toes). The lack of thumbs on their hands is thought to aid their movement through the forest. In fact, the name "colobus" is thought to come from the Greek word "kolobus" meaning maimed or mutilated, due to their missing thumbs.
The colobus monkeys eat leaves almost exclusively, only occasionally taking in fruits and flowers. Their stomachs are very large, with three separate chambers that help to ferment and digest the leaves, very similar to the process of rumination in cows. They have been recorded to eat 46 different species of plant, but only five species make up the greatest proportion of their diet.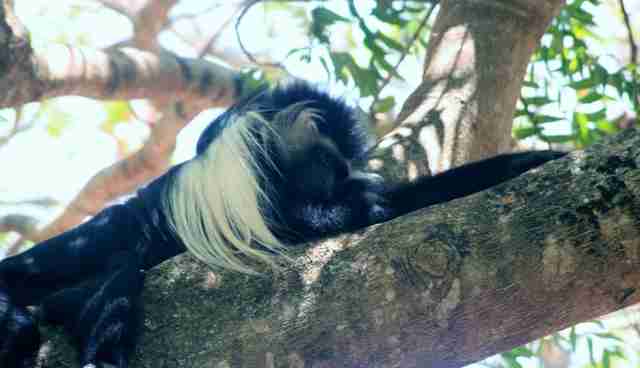 Due to the poor nutritional quality of their food they have to browse for many hours, consuming two to three kilograms of leaves per day (one third of their full body weight). This means they have to sleep for around a third of their day to aid the digestion. They even eat soil, clay, charcoal and rocks which is thought to assist in the digestion of toxic leaves.
In Diani, the colobus monkeys are not viewed as pests to tourists. Unlike other species, they're not interested in human food, and the monkeys spend their lives above humans in the trees. For this reason they are well-liked by visitors and the local people, and are seen as a sign of health in the forest.

Thank you for reading, and I look forward to answering any questions you may have.
You can see all my pictures at my Flickr account here, http://bit.ly/1dpb3gd, or on my Facebook page where you can also get additional updates: www.facebook.com/diaryofaprimatologist .
References:
www.colobusconservation.org

[Disclaimer: The views and opinions expressed in this article are purely my own and are not in any way linked to any organizations I may represent or work with unless otherwise stated. All photos are my own unless otherwise stated and a source will be provided where other photos are used. The author is not liable for any content accessed through links posted.]