The 99 Facilities Where Drive Hunt Dolphins Are Captive Now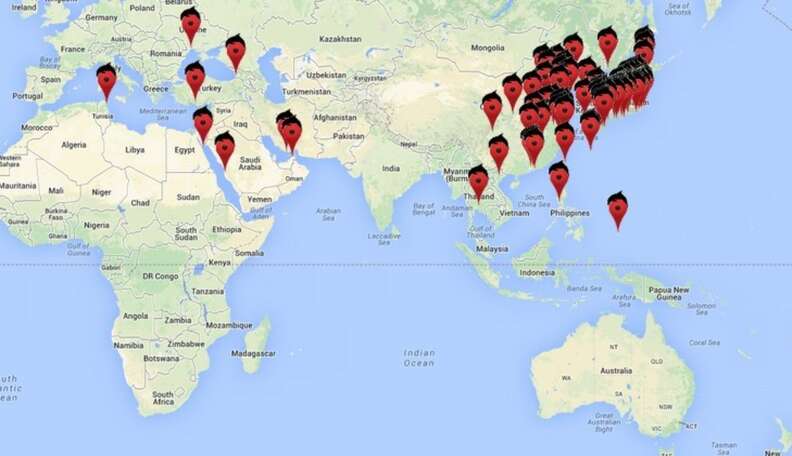 While international attention has zeroed in on Taiji, Japan this month during its annual dolphin slaughter season, the international market for captive dolphins and other cetaceans still exists. Ceta-Base, a comprehensive database of captivity and marine mammal statistics, created a handy map showing all of the captive cetaceans that were caught using drive fishing -- a method that involves herding animals into a small harbor for slaughter and which has been criticized as unnecessarily brutal and inhumane.
You can find the interactive map of all the facilities that house drive hunt cetaceans here.
According to the map, there are 99 facilities in 19 countries that import or display cetaceans captured through drive hunt fisheries. There are 55 in Japan, 26 in China, four in South Korea, and one in each of the following: Egypt, Republic of Georgia, Iran, Mexico, Palau, Philippines, Russia, Saudi Arabia, Taiwan, Thailand, Tunisia, Turkey, Ukraine, United Arab Emirates, United States and Vietnam.
ACTION GUIDE: Taiji Dolphin Slaughter
Dolphin roundups and slaughter -- brought powerfully to the public's imagination by the Oscar-winning documentary "The Cove" -- happen every year in Japan. You can sign our petition toend the brutal hunt here. You can also visit Sea Shepherd's site to learn more about the problem -- the organization has many ways you can help, from volunteering to simply spreading the word on Facebook and Twitter. Sea Shepherd also encourages concerned citizens to call and write to the authorities in Taiji as well as the Japanese Embassy in your country, the U.S. Embassy to Japan, U.S. and Japanese Ambassadors to the UN and the U.S. Senate members of the Committee on Foreign Relations, among others -- all of their contact information is on this page. Another group involved in the issue is Earth Island Institute's Save Japan Dolphins.